Student Success Portal Updates and Reminders for Fall 2019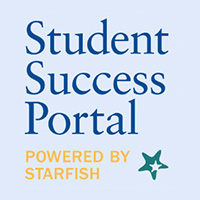 The Student Success Portal, powered by Starfish, is already contributing to student success and improving Webster administrative processes as we kick off the Fall semester.
Attendance Verification Surveys
Attendance Verification Surveys help the University more efficiently and accurately confirm student attendance during the drop week (week 1 only of each term/semester), allowing faculty to indicate if a student has not attended, or been excused, and should be dropped.
Attendance Verification Surveys, piloted in the spring of this year, fully rolled out in Summer 2019. Due to the increased amount of classes offered during the Fall semester this process will be new for a significant number of people.
IMPORTANT: All students on the Attendance Verification course roster are presumed to be attending or previously excused by the instructor. Only check the box, "Did not attend. Student will be dropped," for students who are not in attendance and are not excused during week 1 of the term/semester. Checking the box will raise a flag that results in the student being dropped from the course.
To find out more, visit the Attendance Verification Process webpage.
"Six or more active flags" system flag
For nearly two years, a "Three or more flags" system flag was in place to help identify and prioritize students in the greatest need of attention. Due to the robust use of flags, it's been assessed that changing the system flag to "Six or more" would be better suited to support students that have a more urgent need of intervention.
New and updated website resources
An exciting new website resource is the Attributes document. The Student Success Portal provides an incredible capacity to connect with specific populations of students. The attributes feature is one of the best tools to identify the students with whom you may want or need to connect. However, it's not necessarily an intuitive process or feature. We hope this resource will provide guidance and assistance.
Several new or updated videos are also available on the website, including a number of new videos for students. Find them on the For Students tab of the Student Success Portal website.
Helpful reminders
Online appointment scheduling
You can set up online appointment scheduling through the Student Success Portal. The system will read your Office 365/Outlook calendar so that you aren't double-booked, and students can schedule meetings and appointments with you directly from the Student Success Portal.
Several departments and individuals have added this capability during the summer, and incoming students have been told about the functionality. You can find out more through two website resources:
Additionally, you can email studentsuccess@webster.edu to request a one-on-one meeting or a training for your unit to learn more about setting up and using online appointment scheduling.
Enhancement requests
You can submit enhancement requests to add and/or modify Student Success Portal functionality.
We have received several enhancement requests and have been able to respond to and address these requests. Requests have included adding new attributes, pulling in additional data to display in the Overview and Info tabs of students' folders in the Student Success Portal, and setting up specific Note types and Roles for specific departments/programs.
Stay connected
You can join the Webster Starfish listserv to stay connected and get updates about the Student Success Portal, ask questions of colleagues, share your experiences, and more. Add yourself to the listserv or email Student Success to request to be added.
Training options
Several Starfish-related/focused trainings have been scheduled for the Fall 2019 semester. You can find a list of training dates and times here. You can join in either in person or on WebEx.
To schedule a one-on-one training or something for your unit, email Student Success.
Upcoming dates to know
In addition to the training dates, knowing when the various surveys – Attendance Verification Surveys, Early Term Progress Surveys, and Midterm Progress Surveys – will run is helpful. You can find a full 2019-2020 calendar on the website, but here are a couple guidelines for the surveys:
Attendance Verification Surveys: Open on the first Monday of each term/semester start and remain open through 11 p.m. the following Monday
Early Term and Midterm Progress Surveys: Open on the relevant Fridays and remain open for 10 days, closing on the second Monday at 11 p.m.
Webster University has not made any changes to its Early Term and Midterm Progress surveys. There were requests to consider removing internships, practicums, and dissertations from the progress surveys, but after careful consideration and discussions with faculty and staff members, the decision was made to keep these courses in the progress surveys.
Returning users will notice that the vendor has updated the platform to allow for a more mobile-responsive experience. The enhancements also include auto-save functionality and keeping the Progress Survey tab available at all times, not just when a survey is available. An updated video is available.
Questions?
Information about and resources for the Student Success Portal, powered by Starfish, are available at www.webster.edu/success. You can also email us at studentsuccess@webster.edu and/or post a question to the listserv (starfish@webster.edu).