Statement on U.S. President Executive Order on Immigration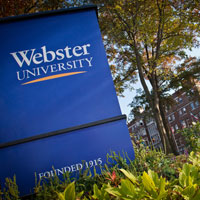 To the Webster University community:
On Friday, the administration of President Donald J. Trump issued an executive order that bans anyone with passports from Syria, Iran, Libya, Somalia, Yemen, Iraq and Sudan from entering the United States for 90 days or longer, even if they already have a green card or a visa. We are closely monitoring this developing situation and acknowledge the problems this raises for the international scholarly community. We understand this raises anxieties because of the rapid shift in U.S. policies in the past few days and because the order's full ramifications are still unknown.
The order blocks all immigrants from entering the country for 120 days or longer. It also bans anyone from the seven countries named above from entering the United States, regardless of whether they are immigrants or are visiting the country for other purposes.
The order suspends citizens from other "countries of concern" from entering the country. While the executive order does not identify these countries, it directs the Department of Homeland Security to add them to the order in the next 60 days. Additionally, the order directs the State Department to "expedite the completion of a biometric entry-exit tracking system for all visitors to the U.S. and require in-person interviews for all individuals seeking a nonimmigrant visa." This will impact all non-U.S. citizens entering the country, including our international students, faculty and staff who are traveling.
The University's attorneys are recommending that any students, faculty or staff members who hold a passport from the seven countries named avoid any international travel. Those who choose to travel could have difficulty re-entering the United States. That list of countries could expand and the University will try to keep the community apprised of these changes. These legal developments give our community pause as they present challenges for universities like ours which attract international students.
We value our international students, faculty and staff. Webster has a long history of embracing the international community, from its earliest days when it accepted two French students after World War I, through today. Currently, Webster has students, faculty and staff representing nationalities of more than 140 nations and six continents. Our international community has strengthened the University's core values of diversity and inclusion.
As this dynamic situation develops, the University will continue to monitor the situation and offer the best advice possible for students, staff, and faculty. The University supports human rights, including the freedom of movement as a basic element of liberty and the University supports and complies with all applicable immigration laws.
Elizabeth (Beth) J. Stroble
President
Julian Z. Schuster
Provost, Senior Vice President and Chief Operating Officer