'St. Louis Sound' Book Author Reading Oct. 10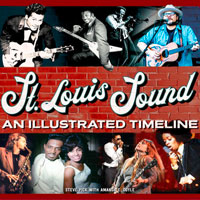 The English Department and Faculty Speaker Committee welcome Steve Pick, author of St. Louis Sound: An Illustrated Timeline, for a reading on Thursday, Oct. 10, at 1:30 p.m. in Pearson House room 2.
St. Louis Sound: An Illustrated Timeline is a remarkable compendium of 170-plus entries—each a micro-essay as entertaining as it is informative—spanning more than 100 years of St. Louis music history. Pick and his savvy collaborator Amanda Doyle have fashioned an unabashed love letter to the city's rich and varied tradition of jazz, blues, folk, rock 'n' roll, R&B, country, hip hop, and more, accompanied throughout by a lavish array of photographs.
The book goes beyond the estimable men and women who made the music (including Miles Davis, Chuck Berry, Johnnie Johnson, Ike & Tina Turner, Nelly, Pokey LaFarge, and Sleepy Kitty, among scores of others) to the disc jockeys who promoted it, the record stores that sold it, and the venues where the musicians performed it (from the Municipal Opera Theatre to the Way Out Club). Even legendary superfan Beatle Bob shows up here in his dancing shoes.
About the Author
Steve Pick has been listening to music since he was four years old and writing stories and commentary since he was seven, so this book is the perfect confluence of his abiding twin passions. He founded Jet Lag, a music magazine that published more than ninety issues, and was a regular contributor to the Riverfront Times for more than twenty years. He also served as a concert reviewer and columnist for the St. Louis Post-Dispatch. Pick began working in record stores in 1983 and can now be found at the venerable Euclid Records in Webster Groves, where customers continue to count on his eclectic good taste. He hosts a weekly music program, Sound Salvation, on KDHX Radio. He has attended some 2,000 concerts in St. Louis, and he actually remembers most of them.
For more information about the reading call 314-968-7170.