Chancellor Stroble to Discuss Innovation, Trends in Higher Education on Business Journal Panel March 5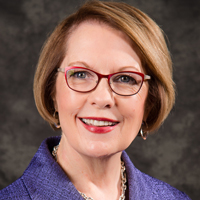 Webster University Chancellor Elizabeth (Beth) J. Stroble will be part of a St. Louis Business Journal leadership panel discussing the higher education landscape's rapid evolution. The panel takes place March 5, 7:30-9:30 a.m. at the St. Louis Grand Marriott Hotel.
Stroble will appear on the panel with chancellors and presidents from local institutions including Harris-Stowe State University, Maryville University, St. Louis Community College and University of Missouri-St. Louis. The inaugural event in the publication's Publisher's Breakfast Series will be moderated by Erik Siemers, editor of the St. Louis Business Journal.
Topics will include how these institutions are addressing the challenges and opportunities facing higher education in the region, as well as how they address the growing workforce needs of the business community.
Having served as Webster's top executive leader since 2009, Stroble can be expected to share insights from her experience guiding an institution known for providing a high-quality, affordable, market-responsive education to undergraduates and graduate students in the St. Louis region, online, across the United States and at campuses on four continents around the world.
Her views on trends and critical needs in education can be found in the following recent platforms:
President to President: "Innovating to Advance Success for Students' Diverse Needs": The need for ongoing, life-long learning is increasing at the same time that economic conditions have challenged students and their families, making affordability and value important concerns... 'non-traditional' students are now in the majority. Universities that thrive will tailor the innovations they adopt to meet the needs of an increasingly diverse student population with the intention of advancing both access and success."
Business Journal Op/Ed: Why diversity and inclusion are 'a social and ethical imperative': "As one of the few women chancellors of a global university system, I'm proud to be an exception, an anomaly in a traditionally male role. It is one of my lenses for understanding exclusion and the damaging effects of stereotyping. And it fuels my commitment as a leader to enlarge opportunities for others. Commitment as a leader means personal activity, advocacy in larger circles, and modeling inclusion. For our students to succeed and thrive in an increasingly diverse workforce, it's imperative they not only hear about diversity, equity and inclusion but 'live' it."
Woman Overboard Podcast with Nancy Koplar: On diversity, inclusion and equity in higher education: Discussing

diversity and inclusion at Webster, the University's global footprint and activities at the newest campuses in Ghana and Uzbekistan, and reflections on Stroble's careers in teaching and higher education leadership.
The day after the panel, Stroble will be in New York City to help launch the African Renaissance Diaspora Network's (ARDN) international "Red Card" campaign. "Webster is a natural partner for the ARDN, given our global mission and presence, including our 2014 opening of the campus in Ghana as the first U.S. accredited university to offer full degree programs on site in the country. ... We are committed to creating strong and inclusive futures for all students and the communities they call home, locally and globally."
Attendees can register in advance for the Business Journal panel here.