Podcast: Chancellor Stroble on Diversity, Inclusion, Higher Education Leadership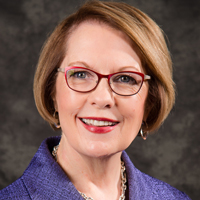 Webster University Chancellor Elizabeth (Beth) J. Stroble was the guest for a two-part episode on the Woman Overboard podcast hosted by actress, St. Louis media personality and Webster University alumna Nancy Koplar.
Topics covered during their lively interview include Webster's emphasis on diversity and inclusion, its global footprint and activities at the newest campuses in Ghana and Uzbekistan, and Stroble's reflections on her careers in teaching and higher education leadership.
"Diversity and inclusion infuses so much of what we do at Webster," Stroble says during part one of the podcast, which was recorded toward the end of the fall term and posted this month.
On Uzbekistan, Stroble reflected on the seven years of work to lay the foundation for a successful opening in Tashkent this past year. "The current president is an academic by background, and he put a much stronger focus on opening up Uzbekistan to foreign universities," she said. "We were the right institution at the right place at the right time."
Koplar holds two degrees from Webster -- an undergraduate double-major in French and theatre, and most recently a master's in Human Resources Development, which included study at the Westport campus and Gateway campus in downtown St. Louis.
There are more Webster connections behind Kolpar's podcast series, which focuses on women who have achieved success while juggling the many stresses of everday life. The first episodes of Woman Overboard had Webster's Jim Singer as producer. Currently, it is produced by Bill Schulenberg, an adjunct professor at Webster University who has taught audio aesthetics, voiceovers and dialogue in the School of Communications.
Both segments can be heard or downloaded through the Woman Overboard site, or follow these direct links to "The Worldwide Impact of Webster University" - Episode 1 and Episode 2.