The Value of a Private College Education: Webster chancellor leads national discussion on access, equity, and student success in higher ed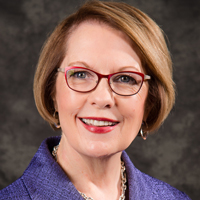 WASHINGTON, D.C. - The Council of Independent Colleges (CIC), the largest national association of nonprofit independent colleges and universities, has worked since 1956 to support college and university leadership; advance institutional excellence, and enhance public understanding of private higher education's contributions to society. As part of this effort, the CIC is hosting a series of workshops to provide data and persuasive arguments that equip campus faculty and staff to make the case for the value of private institutions.>
And leading that effort is the CIC Board of Director's Public Information Committee, chaired by Webster University Chancellor Elizabeth (Beth) J. Stroble.
"Our CIC members share a mission of closing the historic gaps in access and equity in higher education," Stroble said about her work with the CIC. "By disseminating data about our sector's comparative success in graduating low-income, first-generation college students on time and with less debt, we will counteract the myths and misperceptions that affect the choices made by prospective students and their families,And we hope to influence public perception and policy decisions that are important for increasing opportunity for students with the greatest need ."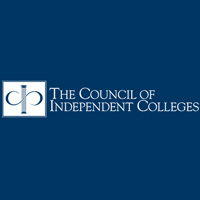 The CIC workshops are being held at locations across the United States through October 2020. Called "Talking about Private Colleges: Busting the Myths," the workshops will provide participants with facts about private colleges and universities — including how private institutions offer many internal grants and scholarships that make them affordable choices for a range of students. The personal attention of faculty and staff, a strong focus on student success, and historic missions of meeting unmet needs collectively create the conditions for underrepresented students to progress successfully to degrees. The workshops also will prepare participants to influence community opinion through informal conversations with friends, neighbors, elected officials, and local businesspeople.
Stroble was elected as Vice-Chair for Public Information on the CIC's Executive Committee earlier this year. In that role, she embraces the effort to inform the public about the benefits of attending private institutions. Stroble has been a member of the CIC's Board of Directors since 2018. She served on the CIC's Committee for the Future of Independent Higher Education and hosted their 2017 Workshop for Securing America's Future initiative.
Stroble's roles with the CIC are fitting, as Webster University has a well-established history of addressing students' unmet needs. Webster has one of the highest percentages of Pell Grant recipients in the region, coupled with a strong graduation rate for those recipients, and has been recognized by several organizations for boosting students' social mobility. She recently published an article in President to President, Innovating to Advance Success for Students' Diverse Needs.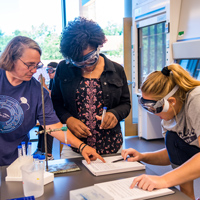 Webster has been repeatedly recognized by Diverse Issues in Higher Education magazine for conferring more graduate degrees to students of color than any other private non-profit institution in the United States. Webster also has been recognized by several organizations as a "Best Value" school due in part to the significant amounts of financial aid, scholarships and grants offered to its students. According to the U.S. Department of Education's IPEDS statistical database on all colleges and universities in the country, more than 90 percent of all Webster undergraduates receive some type of financial assistance.
Stroble isn't the only Webster connection to the CIC mission. Amelia Bond, the president and chief executive officer of the St. Louis Community Foundation and a former member of Webster's Board of Trustees, was also elected to the CIC's Board of Directors this year.
Bond's appointment to the CIC's Board of Directors will further enhance the equity mission of colleges. The St. Louis Community Foundation has a history of helping students from diverse backgrounds. Last year, it gave more than $1.4 million in scholarships to more than 600 students in the region. The Foundation also is a partner in Scholarship CentralSt. Louis Graduates which is focused on eliminating equity gaps in degree completion.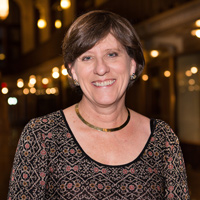 "Numerous tools that could help low-income students earn a college degree are out there, but many are not aware of their existence because they are not told where to find them or how to get them," Bond said. "We hope to share light on those tools and methods on how to fully take advantage of the inherent benefits that independent institutions offer."
Both Stroble and Bond have previously held significant local and national leadership roles. Stroble is an invited member to the Global Federation of Competitiveness Council's University and Research Leadership Forum and a task force member to the Higher Education Recognition Project Task Force with St. Louis Graduates. She is a board member of the Executive Committee for The Muny in St. Louis, a board member and co-chair of the Regional Higher Education Council for the St. Louis Regional Chamber, a member of the Council on Competitiveness and a member of the International Association of University Presidents. She is one of the co-chairs of the higher education initiative of the ARDN (African Renaissance Diaspora Network) and will help launch the Red Card initiative at the United Nations in New York City on March 6 to raise awareness of discrimination and violence against women.
Additionally, Stroble is a member of the International Women's Forum, an ex-officio board member of Opera Theatre St. Louis, an ex-officio member of Repertory Theatre St. Louis, a member of the St. Louis Forum and aboard member and Chair of the Education Committee for the Urban League of Metropolitan St. Louis.
Last year, Stroble was named by Diverse Issues in Higher Education as one of the 35 top women in higher education. In 2017, Stroble was listed on the "The Top 50 Women in St. Louis in Media, The Arts, Business, Education, and More. . ." by Gazelle Magazine and also was presented with the "Diversity and Inclusion Award" by the Urban League of Metropolitan St. Louis.
In 2016, she was listed among the "The Power List: 100 People Shaping the Region" by St. Louis Magazine, "Twenty Influential St. Louisans" by Gazelle Magazine, and "50 Missourians You Should Know" by Ingram's Magazine. That year she also earned the "Giving Back Award for Presidents and Chancellors" by Insight Into Diversity magazine.
Bond is the former chair and member of the Board of the Municipal Securities Rulemaking Board, a self-regulatory organization who writes the laws for the municipal industry. Prior to joining the St. Louis Community Foundation, Amelia was with A.G. Edwards & Sons for more than 20 years, eventually servicing as Director of Public Finance, and a member of the Board of Directors.
She was a member of Webster University's Board of Trustees for nine years, serving as chair of the board for two years. During that time, she contributed to Webster's signature Diversity & Inclusion Conference with financial sponsorship, attendance, and participation in welcoming panelists and keynote speakers. She also brought her extensive financial services experience, leadership skills and an emphasis on diversity and inclusion to the Webster University Board of Trustees, greatly expanding its diversity, guiding it through sensitive trustee and governance challenges, updating its bylaws, helping reaffirm the University's bond rating, and leading oversight of the construction of Browning Hall and the redesigned Sverdrup Complex.
As a result of her strong leadership on Webster's board, she was named an Outstanding Director by the St. Louis Business Journal in 2016 and designated Chair Emeritus by the Webster University Board of Trustees.
For more information about the CIC or the Public Information Committee, visit www.cic.edu/programs/talking-about-private-colleges.