Submit Recommendations for Student Ambassadors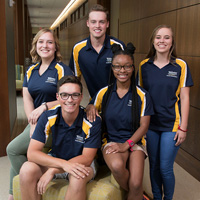 Founded in 2010, the Webster University Student Ambassadors serve as the official student representatives for Webster University's President's Office.
The Student Ambassadors work with collegiate and administrative offices to greet and converse with constituents, government officials, donors, and other dignitaries during University sponsored educational and social events. This organization showcases the quality and diversity of the student body, promotes pride, and communicates understanding of the University.
How to Recommend a Student
Administration, faculty and staff can recommend students by contacting Billy Ratz, director of parent & student programs, at ratzwil@webster.edu. Provide the students name and e-mail address and an e-mail will be sent to the student urging them to apply and informing them that they were nominated for the program.

Applications are due Friday, March 9, 2018.

Visit webster.edu/studentambassadors for more information.