2018 Student Employment Supervisor of the Year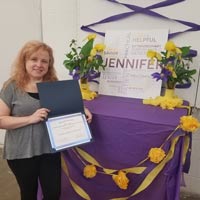 Jennifer Hylton-Whited, representative for the Department of Art, Design & Art History (DADAH), was selected as the 2017-18 Student Employment Supervisor of the Year. A surprise party was organized in her honor by students and colleagues. She was nominated by nine of her student workers.
Other nominees included:
Carolyn Brown (Academic Resource Center)
Davina Harrison (Library)
Leigh Anne Huckaby (Community Music School)
Katie Knetzer (University Center)
Chris Robinson (Academic Resource Center)
Heather Sadi (Admissions)
Matthew Wier (Library)
Also, congratulations to the previously announced 2017-18 Student Employees of the Year:
Gabriella Farrell - Math & Computer Sciences, Walker School
Kristen Thompson - Career Planning & Development Center
Brenda Tinnemeyer - Multicultural Center & International Student Affairs
Nominations for these awards were solicited in March in the lead-up to National Student Employee Appreciation Week.