Webster Student Featured by CNN for Small Town Protest Efforts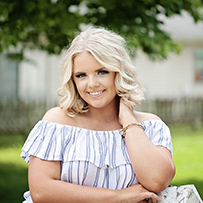 Webster University student Grace Gilliam was featured on CNN earlier this month for participating in a protest in her small town of Farmington, Missouri, population 18,843. Gilliam was one of four people who took part in protests in small towns across the United States in solidarity with the larger protests in Minneapolis, Washington, D.C., Los Angeles and Chicago. Gilliam believes being noticed by the CNN reporter happened because of the skills and information she learned at Webster.
View the CNN article featuring Gilliam, "Black Lives Matter protests aren't just happening in big cities. They're also in America's small towns."
Gilliam participated in a protest in front of the St. Francois County Courthouse, about 70 miles from Webster's main campus. "I felt it was important to get involved in a small town because the systematic racism that this country faces manifests itself in places all over, not just big cities," said Gilliam. "It was all very exciting. I follow CNN every day, so I was a little star struck, but I knew I couldn't let that get in the way of the point that needed to be made."
Gilliam posted on her Twitter account about the protest, saying how proud she was of her small community. Little did she know that her tweet would garner interest by CNN, an international news network with one of the largest news-consuming audiences in the world. "So, I just got interviewed by CNN," Gilliam exclaimed in a text to Julie Smith, her media literacy professor.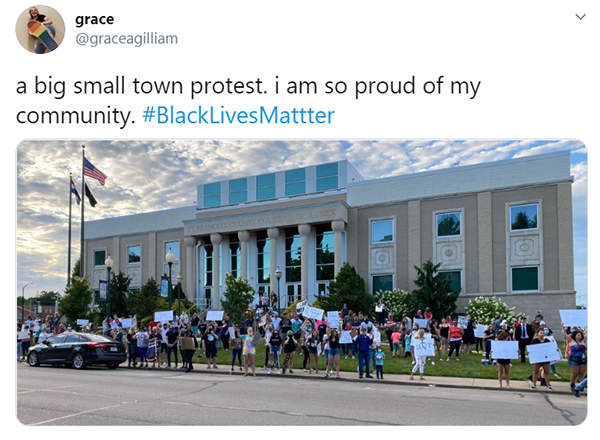 "Grace knew I would be excited since she has been in two of my media-related classes," said Smith adding she became even more excited when Gilliam used skills taught in Smith's class to figure out if the person contacting her was actually a reporter. "I was even more excited when she told me that she verified the person from CNN was really who they said they were."
Applying Media Literacy classroom knowledge in a real world scenario
It's another example of how Webster's personal approach equips students to apply lessons to life outside the classroom. Gilliam said she understands the importance of verification and caution thanks to lessons in Smith's classes in Webster's School of Communications.
"I use media literacy tactics every day to fact check articles or statements being made. I think part of being a good ally is making sure you are not spreading misinformation or disinformation about what is going on right now," said Gilliam. "I have learned in Julie Smith's class how detrimental the spread of disinformation and misinformation can be.
"This is not the time to cause more suffering by spreading falsities," said Gilliam. "Making sure you have the facts and being media literate is crucial right now. This is something I may have never realized without having Julie Smith as a professor."
But Gilliam said it wasn't only her learning experiences in Smith's classes that helped her come to this conclusion. "Webster has opened my eyes to perspectives I had not seen in my small town. Before I attended Webster, I was blind to the problems that people of color faced. Being able to be in a diverse, safe space where I can learn about their experiences has opened my eyes to the injustices they face. Webster has taught me to embrace diversity and how to be an ally to those facing injustices.
"The fact that CNN is covering these small-town protests is wonderful," said Gilliam. "It is shining a light on all the voices that are speaking up. In the last week I have learned the power of a protest and the power of social media. My tweet went from 10 likes to over 100 in a day. I am grateful that I could use my voice on a larger platform."
For others looking to use social media to make an impact, Smith gave this advice, "Be sure to use the appropriate hashtags and remember that not everyone on the platform can be friendly," said Smith. "Twitter, like many social media platforms, has democratized content creation, so any one of us has access to the same tool as someone from the New York Times."
Gilliam also had her own advice. "I can only speak from the perspective of an ally, but I would say use your voice in whatever way you can. Amplify the voices of people of color in and outside of your community. Learn about the experiences they've had in your community and what they are experiencing now," said Gilliam. "It will open your eyes to things you never knew about. Help to educate other allies and do your best to be loud. Now is not the time to be silent."