Inclusion Pledge, Posters Part of Student-Led Campaign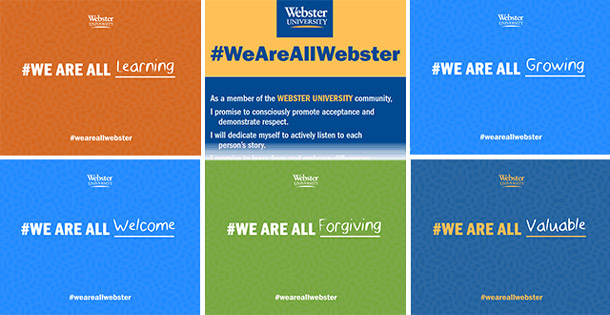 Following a town hall forum in January 2017, a group of Webster University students and staff at the home campus in Webster Groves collaborated to develop a campaign that would engage the entire campus community in promoting diversity, inclusion and respect for one another.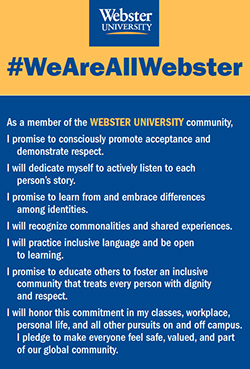 One element of the campaign is a voluntary pledge available to be made students in a variety of ways this fall. Another aspect is inclusive messages underlining the theme #WeAreAllWebster, including student-designed posters that will appear on campus and in social media.
The art for the posters (pictured above), featuring messages like "We are all learning. We are all Welcome." were designed by graduating senior Anna Cruzen.
The pledge was developed by a group of students and then refined by a committee of students and staff, including Nicole Roach, associate vice president for Diversity and Inclusion. It was then endorsed in a unanimous vote by Student Government Association on April 18, 2017.
Student Affairs will introduce the campaign as part of New Student Orientation, and follow up with more communication as returning students arrive on campus for the fall term.
---
The Pledge
The text of the pledge appears below:
As a member of the Webster University community,
I promise to consciously promote acceptance and demonstrate respect.
I will dedicate myself to actively listen to each person's story.
I promise to learn from and embrace differences among identities.
I will recognize commonalities and shared experiences.
I will practice inclusive language and be open to learning.
I promise to educate others to foster an inclusive community that treats every person with dignity and respect.
I will honor this commitment in my classes, work place, personal life, and all other pursuits on and off campus. I pledge to make everyone feel safe, valued, and part of our global community.
Note: This pledge is voluntary, providing students the opportunity to opt-in. No one will be required to take the pledge. Webster will not track who has taken the pledge. Taking the pledge, or not taking the pledge, has no impact on any policy violations. The Dean of Students office will be the primary point of contact for the pledge, working closely with the Office of Diversity and Inclusion, MCISA, Office of Student Engagement, and SGA.