Student Award Nominations Open through March 1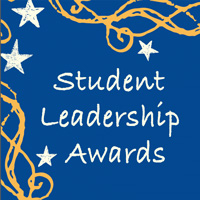 Student Leadership Award nominations are now being accepted now through March 1, unless noted with an earlier deadline. Please take a moment to nominate a deserving student or student organization for recognition of their accomplishments during the 2018-2019 academic year.

All awards, criteria and nomination forms can be found at webster.edu/student-engagement/awards.

All nominees and nominators will be invited to attend the 26th Annual Student Leadership Awards dinner on Friday, April 26, 2018. Last year's event recognized student groups and individual students for their leadership involvement at the Webster Groves campus, with approximately 170 students and guests in attendance.

Please contact Katie Knetzer, director of the University Center, at mccombka@webster.edu with any questions.
Individual Awards:
George Herbert Walker III Award for Leadership Award for Leadership (Nomination deadline: Feb. 22)
Outstanding Graduate Student Award
Campus Life Award
Campus Voice Award
Capstone Award for Leadership
Global Citizen Award
Mark Govoni Emerging Leader Award
Outstanding Contributions to Student Government Association
Outstanding Leadership of a Student Organization
"I'm the First" Ted Hoef Award for Leadership and Service
Student Organization Advisor of the Year
Group Awards:
Jacqueline Grennan Wexler Award for Humanitarianism and Servant Leadership (could also be awarded to an individual)
Outstanding New Student Organization
Outstanding Contributions to Campus Social Life
Outstanding Contributions to Cultural Awareness
Student Organization of the Year