25th Annual Awards Ceremony Honors Student Leaders
The 25th Annual Student Leadership Awards Ceremony, sponsored by Student Affairs and the Student Government Association, was held on Friday, April 27, in Grant Gymnasium.
Student groups and individual students were recognized for their leadership involvement at the Webster Groves campus, with nearly 200 students and guests in attendance. Many of the awards were presented by alumni, former award recipients who returned to honor current student leaders. President Elizabeth (Beth) J. Stroble presented the Walker Leadership Award.
Lisa Camp, a media communications major from University City, received the George Herbert Walker III Award for Leadership, which is awarded to the graduating senior who has demonstrated the most significant combination of academic achievement and leadership during his or her student years at Webster University. The award comes with a $2,300 scholarship.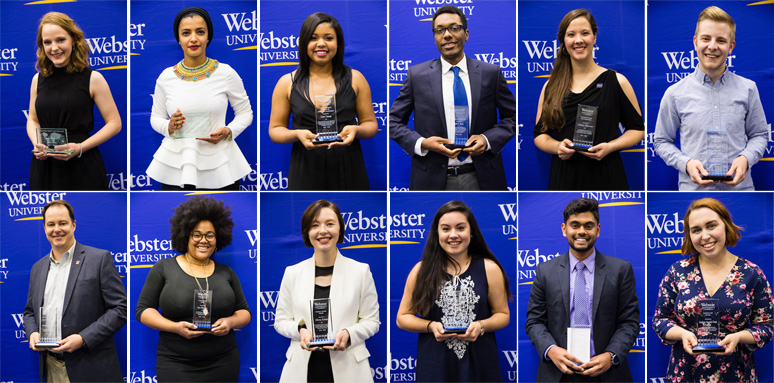 Additionally, six students received the WebsterLEADS Leadership Certificate and medallion to wear at commencement: Morgan Rabe, Maggie Lo, Katlyn Garza, Jordan Struckman, Safal Thapa and Caroline Mevis.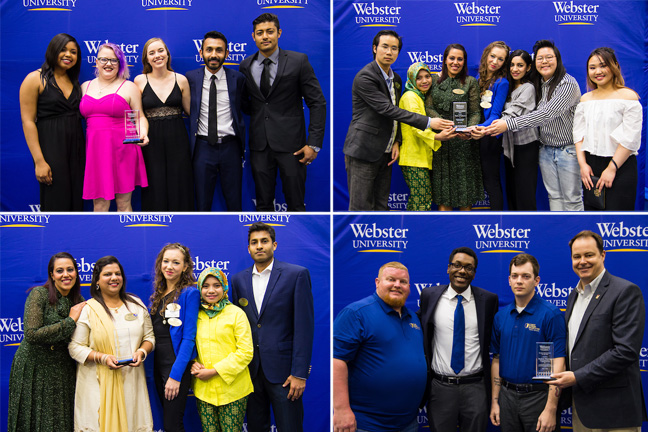 Sara Boyd (Student Veterans Organization) and Gina Jensen (Forensics and Debate) were selected as Student Organization Advisors of the Year. The Learning Happens Everywhere Award for faculty were awarded to Linda Woolf, Victoria Brown-Kennerly, Sister Annie Stevens, and Tori Meyer.

View more photosof the awards ceremony at the University's Facebook page.
Individual Student Awards
Capstone Award for Leadership: Caitlyn Vanover & Scott Lunte
Alumni Association Student Leadership Awards: Undergraduate - Megan Price, Graduate - Asmaa Ali

Global Citizen Award: Olivia Potter

Campus Life Award: Annie Dent

Campus Voice Award: Zoe Burton

Outstanding Leadership of a Student Organization: Chris Fuller (Student Veterans Organization)

Outstanding Contributions to SGA: Shiloh Bradley

"I'm the First" Ted Hoef Award for Leadership and Service: Josh Tyler
Jacqueline Grennan Wexler Award for Humanitarianism & Servant Leadership: Fanmeng (Angela) Meng

Mark Govoni Emerging Leader Award: Aathif Shamail

SGA Outstanding Student Awards: Freshman - John Wallis, Sophomore - Noor Fatima Rashid, Junior - Shaniquel Reece

Making a Difference Awards: Dipti Pathre, Heather Hamilton, Emily Mertz, Morgan Rabe, Brennen Almus, Sara Bannoura, Andrew Young, Julia Schaubach, Olivia Renkins, Katlyn Garza, Austyn Konarcik, Robert Koegel
Student Organizations

Student Organization of the Year: Student Veterans Organization
Outstanding Contributions to Cultural Awareness: Taste of Culture
Outstanding Contributions to Campus Social Life: Campus Activities
Outstanding New Student Organization: Graduate Student Association