Student Leadership Award Nominations Extended to April 9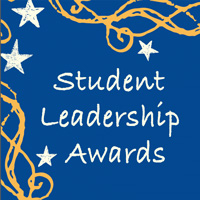 Despite the curveballs that we've been thrown this semester, it is important that we take time to recognize all the fantastic work that our students, student organizations and organization advisors have done (and continue to do) throughout this academic year.
To ensure that everyone has a continued opportunity to submit nominations, the nomination submission deadline has been extended to Thursday, April 9.
Links to nomination forms can be found here: webster.edu/student-engagement/awards.
The format of the Awards Ceremony is still being determined, but details will be shared as soon as they are available. In the meantime, please take a few moments to recognize your friends and student organizations to be honored this year.
For more detailed information, nomination criteria and links to the nomination forms, visit the Student Awards page .