Student Success Initiative Launches Fall 2017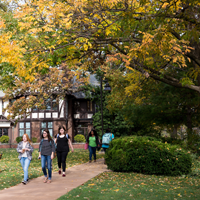 Webster University is embarking on a student success initiative designed to increase student retention and graduation rates, improve academic advising, and promote better communications with students throughout the global Webster system.
The initiative, which will focus on the implementation of a technology solution, will have an implementation team led by Erica Ellard, director of the Academic Resource Center, and Kyle McCool, director of Graduate Advising.
Team members will represent the schools/colleges and academic and administrative support units.
Student Success Team Members
Jesse Alexander, head of Student Resource Center, Vienna
Julie Altmann, office manager, Academic Advising
Justin Barton, director, First Year Experience and Undergraduate Persistence
Victoria Brown-Kennerly, assistant professor, Department of Biological Sciences
DJ Kaiser, associate professor and coordinator, Teaching English as a Second Language
Bethany Keller, assistant director, Multicultural Center and International Student Affairs
Bill Lynch, professor, Conservatory of Theatre Arts
Victoria (Tori) Meyer, associate professor, Audio Aesthetics & Technology Department
Erik Palmore, director, Faculty Development Center
Beth Russell, assistant provost, Graduate Studies
Craig Skinner, senior academic advisor, Undergraduate Advising
Dustin Smith, assistant professor, Management Department
Sue Wilcox, director, Project Management, Information Technology
"With our large, dispersed, and mobile student population, faculty and staff will benefit from a system that will track – in one place – students' degree progression," said Nancy Hellerud, vice provost. "Importantly, this tool is also student-facing – it will empower students to actively manage their progress to graduation. We're grateful to the faculty and staff who took part in the reviews of options, and we look forward to announcing the launch of this new initiative in the fall."
This project will include the staged implementation of the technology solution, Starfish by Hobsons, with eventual global release and with many additional members of the Webster community providing feedback and guidance along the way.
Starfish is a comprehensive approach that will pull together multiple technologies into one streamlined, global system. Webster's partnership incorporates many components, including case management, early alert, analytics, and degree planner (Starfish Enterprise Success Platform). It's a system for all student populations at all locations and has faculty and staff access as well as a student-facing system. Starfish will allow students the option to self-schedule appointments, review advising notes, easily identify their success team, and track degree progress.
After review of multiple options by faculty and staff, Starfish was selected because of its ability to leverage existing infrastructure, serve undergraduate and graduate students worldwide, and provide analytics and reporting for decision-making.
Initial launch of this student success initiative will begin in Fall 2017.