'Laughing at Life's Challenges': Webster SVO presents improv workshops, animated film screening April 3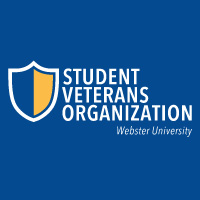 The Webster University Student Veterans Organization is again participating with Missouri Veterans Endeavor's (MOVE STL) Student Veterans Week April 1-6. This week brings together student veteran organizations from St. Louis-area colleges (Maryville University, Saint Louis University, St. Louis Community College, University of Missouri St. Louis, Washington University and Webster University) to host educational events and activities at their respective campuses each day.
April 3: Laughing at Life's Challenges
The Webster University Student Veterans Organization (SVO) will host events on April 3. "Laughing At Life's Challenges" will be a day of networking, camaraderie and interactive learning for both civilians and military members to utilize comedy and the arts to actively combat life stress and adversity. The SVO hopes to bridge the civilian-military divide between civilian students, veterans and area SVO members through these events.
"Laughing At Life's Challenges" events are free and open to the public. Students, staff, faculty and community members working in mental health, those passionate about mental health promotion, or others seeking ways to cope with stress are encouraged to attend.
Event Schedule & Location
All events will be held in Browning Hall, Interdisciplinary Science Building Auditorium, room 160 (8274 Big Bend Blvd.) Free parking for guests is available in the Garden Avenue Parking Garage (572 Garden Ave.)
Improve Through Improv: Comedy workshops with BJ Lange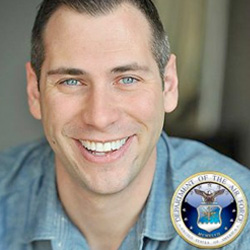 Actor/comedian and retired U.S. Air Force medic, BJ Lange (MTV, Dr. Phil, Jimmy Kimmel Live) will lead two three-hour workshop for attendees, with one session designed for a more general audience/civilian focus, and the other designed for military members and veterans. In these active, hands-on workshops, attendees will laugh with friends and gain some of their childhood playfulness back while engaging in theater games designed to build confidence and strengthen life skills such as team-building, listening, problem-solving, and risk taking by using the fundamentals of improvisational theater.
Students, faculty and staff are invited to actively participate or drop by and observe these sessions as their schedules allow.
Lange is the comedy coach for the Air Force Wounded Warrior program where he teaches wounded, ill, and injured service members (and their caregivers) the benefits of applied improvisation in the AFW2 Resiliency Program. In the past two years, his life was flipped upside down following a med board while on active orders. He is a two-time testicular cancer survivor (and comedian) who attacks adversity with the skills of applied improv and comedy to help cope. Lange is a graduate of and teacher at The Second City Hollywood Conservator Program, is an alumni of iO West and Upright Citizens Brigade Theater Los Angeles, and has studied at The Groundlings Theater. He currently leads the Second City Hollywood's Improv for Veterans Program.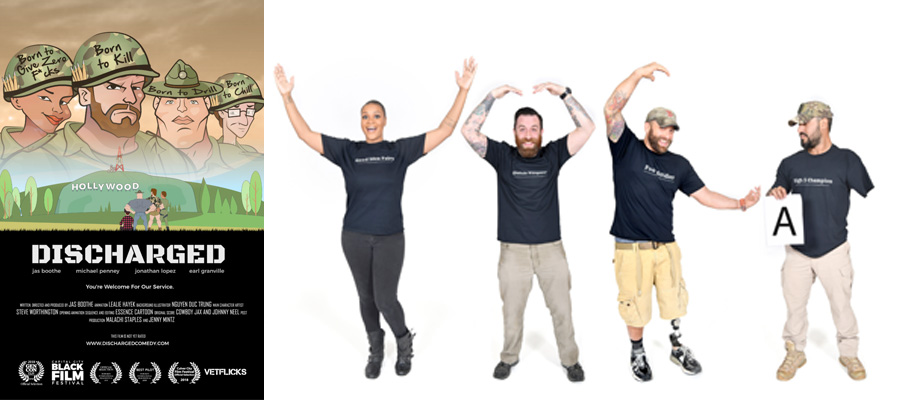 DISCHARGED film screening, Q&A with creator Maj. Jas Boothe
"Infused with dark humor, patriotism, pop culture and VA medication," DISCHARGED shows military branches poking fun at each other's expense while also showing the bond that is formed, no matter which branch our brothers & sisters served. Whether you are male or female, Army, Navy, Air Force or Marine Corps, DISCHARGED shows how veterans come together as a family. Currently in film festival rotation, DISCHARGED won the Best Pilot Category at the 2018 Hoboken International Film Festival. Read more about Discharged at the film's site.
The creator and voice of Major in the animated series, Maj. Jas Boothe, will join comedian and fellow veteran BJ Lange for a Q&A session following the screening of the film.
Boothe is an author, entrepreneur, disabled Army veteran, cancer survivor, innovator, philanthropist and speaker with 16 years of military service. In 2010, she founded Final Salute Inc., which has raised over $1 million to support homeless women veterans and their children, provided over 10,000 days of housing and assisted over 2,000 women veterans and children in over 30 states and territories. Boothe also founded the Ms. Veteran America competition, honoring the women beyond the uniform and highlighting the service and sacrifice of every women that has worn the U.S. military uniform. Boothe has been recognized for her leadership and community impact, with multiple awards including the Oprah Winfrey Standing Ovation Recipient, American Veteran's Center Lillian K. Kiel Award, People Magazine Hero, CNN Hero, Live with Kelly and Michael Unstoppable Mom and others. Boothe holds dual MAs in Human Resource Management and Management and Leadership from Webster University.
MOVE STL Student Veterans Week
In hosting these events on April 3, the Webster SVO partners with student veterans organizations at other St. Louis-area colleges in support of Missouri Veterans Endeavor's "Student Veterans Week" events April 1-6. Veterans, family, and community members are invited to attend all MOVE Student Veterans Week events.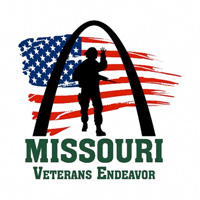 Missouri Veterans Endeavor (MOVE) is a community for homeless veterans and their families. The key to MOVE's success begins with veterans living among their peers in a secure and sober environment with on-site counseling services available 24/7. Once on site, each family member is assigned an individual caseworker. Together they create and implement a well-defined personal action plan to address their specific obstacles and goals.