U.S. Voting by Webster University Students Increased in 2018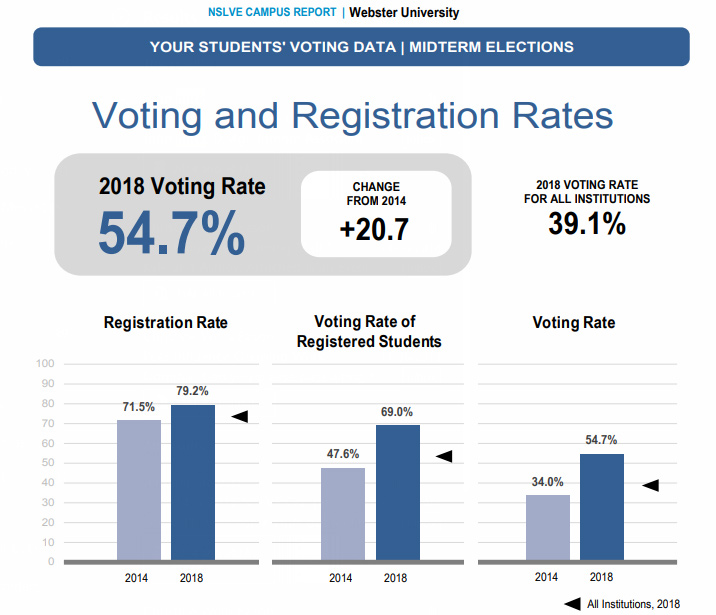 Voting participation among the Webster University student body increased significantly during the November 2018 U.S. mid-term elections, according to a national report released this week.
In 2018, 54.7% of voting-eligible Webster students voted in the elections – an increase of 20.7 percentage points from 2014 (34.0%), and well above the 2018 voting rate of 39.1% among the more than 1,000 institutions included in the report.
The increase reflects nationwide efforts as well as specific programming and outreach by Webster student engagement leaders.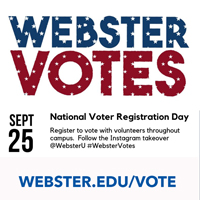 "Preparing our students for engaged global citizenship is a core component of Webster's mission, and voter registration and voter education is a big part of that, especially with new students who are often eligible to vote for the first time," said Jennifer Stewart, director of the Office of Student Engagement at Webster University.
"Through Webster Votes, we aim to connect our students to all of the information they need to be an informed voter, so we are thrilled that these results show how Webster students are taking their responsibility as global citizens seriously."
On the main campus in Webster Groves, Missouri, where Webster University was founded in 1915, several initiatives under the Webster Votes program help engage and educate students in this aspect of citizenship. They include voter registration programs, hosted debate watch events, candidate/ballot info sessions, shuttles to the polls, election night parties, and post-election conversations and panels with expert faculty members.
The Office of Student Engagement has also partnered with CEEP (Campus Election Engagement Project), which supports voter education on college campuses by providing educational resources and connections to others working on Voter Education. They also host a CEEP fellow on the main campus to help with engagement efforts. In 2018 the Webster CEEP fellow was Katie Fields; in 2019 it is Sarah Hill, a sophomore political science major who is also president of the Student Government Association.
About the Report
The data comes from the National Study of Learning, Voting, and Engagement, or NSLVE, conducted by the Institute for Democracy & Higher Education (IDHE) at Tufts University's Tisch College of Civic Life. The study shows that nationwide, the voting rates at participating college campuses doubled on average compared to the previous 2014 midterm. In 2018, the Average Institutional Voting Rate (AIVR) among campuses in the study was 39.1 percent, nearly 20 percentage points higher than 2014's average turnout rate of 19.7 percent.
NSLVE is the only national study of college-student voting. It is based on the voting records of more than 10 million students at more than 1,000 colleges and universities in all 50 states and the District of Columbia; IDHE does not receive any information that could individually identify students or how they voted. The study provides reports to participating colleges and universities, like Webster University, which use them to support political learning and civic engagement, as well as to identify and address gaps in political and civic participation.
About Webster University
Founded in 1915, Webster University is a private, nonprofit university offering undergraduate, graduate and doctoral degrees and certifications to students in a robust learning environment at campus locations in North America, Europe, Asia, Africa and online.