Webster Students Participate in the League of Student Advocates Conference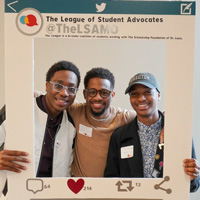 Sophomore Larry Hearn and junior Travis Haughton attended the two-day League of Student Advocates (LSA) conference, a program of St. Louis Graduates. Formerly known as the Active Advocacy Coalition, the LSA aims to inspire, advance, and/or defeat policy that impacts college access and affordability. The Coalition develops student leaders, expands networks, and build bridges across campuses.
The conference is the LSA's annual gathering for students to build community, learn advocacy tactics, and develop skills. The LSA Conference blends hands-on workshops, keynotes, and networking opportunities in a unique two-day event every spring semester. Students participate in a full day of advocacy training followed by legislative meetings at the State Capitol. This year's conference featured more than 120 students from colleges and universities across Missouri.
Students engaged Missouri legislators on the following priorities:
Charging in-state tuition for undocumented students.
Increasing the Access Missouri Award.
Reforming the A+ scholarship to support low-income students.
Deferring increases to the Bright Flight Program.
Rejecting efforts to make FAFSA completion a high school requirement.
Corey Hawkins, Transitions coordinator in the Academic Resource Center, served as a group leader during the conference and accompanied the students during meetings at the State Capitol. Karissa Anderson, advocacy director for Scholarship Foundation of St. Louis, served as the conference director.

Haughton (left) and Hearn (right) worked together with attendees on a variety of projects, feeling empowered by the solidarity present at the conference.
Hearn said of the experience, "The League of Student Advocates has empowered me to empower others to advocate for themselves. It takes courage to advocate and, in LSA, I've found that."
Haughton echoed a similar sentiment. "This was my first time attending the League of Student Advocates Conference and I'll have to say I was pretty impressed," Haughton said of his experience. "Being around a large group of racially underrepresented group of people fighting for a change in Jefferson City was the highlight of the trip. I was honored to have the opportunity to meet with state-elected officials to advocate for more financial resources that will help students who actually need it. Overall, I want to thank Corey Hawkins and Karissa Anderson for providing me with this amazing opportunity and for giving students a voice to step outside their comfort zones to change the world."
About the League of Student Advocates
The League of Student Advocates, a program of The Scholarship Foundation of St. Louis, is a bi-state, student-led coalition. The League believes that low-income, first-generation, and undocumented students have the potential, ability, and right to pursue higher education and that students must be in the center of policy decisions regarding higher education.