Over 100 Students Attend Annual Walker EDGE Internship Fair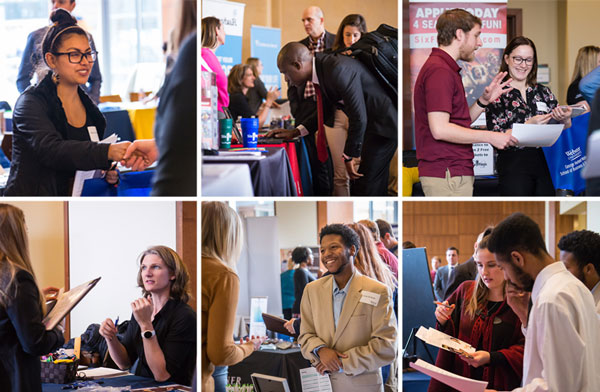 Over 100 students, faculty and staff, attended the Walker EDGE Internship Fair. Students met face to face with recruiters seeking interns for the spring and summer. This event was co-hosted by Webster University's Career Planning & Development Center and the George Herbert Walker School of Business & Technology.
The event attracted national and international employers with headquarters in St. Louis and an international footprint, ranging from Fortune 500 to tech startups representing a variety of industries.
Employers attending included: Cass Info Systems, Cornerstones of Care, Cushman & Wakefield, Edward Jones Investments, Enterprise Holdings, Graybar Electric Company, L.J. Hart & Company, Lodging Hospitality Management, Mathnasium of Wildwood, Midland States Bank, New York Life Insurance Company, Northwestern Mutual, OneSpace, Parkside Financial Bank & Trust, Reinsurance Group of America, Six Flags STL, St. Charles County, Swank Motion Pictures, The America Group, LLC, Unigroup, United States Liability Insurance Group, Vanliner Insurance Company
"I am very thankful for the Walker EDGE Internship Fair at Webster," said Caitlyn Dailey, a Management major and intern at Edward Jones. "Without it, I would not have easily found an internship or been a part of other great opportunities that have been provided by the firm that I currently an intern. As a working adult and full-time Webster student, getting prepared and going to an Internship Fair seemed like an intimidating task, but it was completely worth the time and effort in the end. I would strongly encourage other students to attend the Internship Fair, so they can find great opportunities for themselves like I was able to."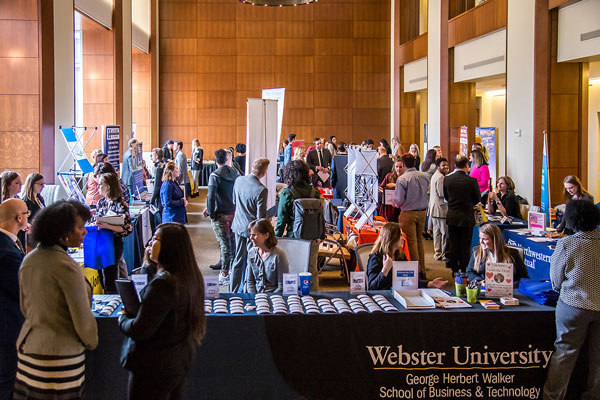 "The energy in the Edward Jones Commons was amazing! I loved hearing about the prepared and eager students connecting with the various organizations," said Trezette Dixon, assistant director, Employer Relations, Career Planning & Development Center. "This event not only provides a recruiting opportunity for our students but also a lesson in professional and career development, which is a valuable part of the academic process, and couldn't happen without collaboration from the wonderful faculty and staff at Webster."
Students can continue to get up to date information on internships and degree-related opportunities as employers post in HANDSHAKE, Webster University's online career management, and recruiting system.