Webster Students Win Local Chevy Marketing Challenge, Help the Homeless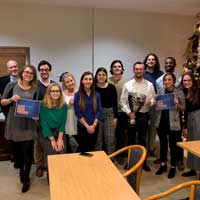 Earlier this month, Advertising and Marketing Communications students in Professor Terry Sullivan's ADVT 3150 Content Marketing, with the help of five Film, Television and Video Production students, won the Chevrolet Local Marketing Associations College Marketing Program and also donated more than 700 pairs of socks to the local non-profit Places for People at the same time.
The Webster students were presented with a trophy and received accolades from the community earlier this month.
"This was a unique opportunity for our students to engage with the local business community and develop a real marketing strategy, but our students took it a step further and saw an opportunity to also give back to the community," said Sullivan. "This just speaks volumes about both the creativity and compassion that makes up the core of a Webster student."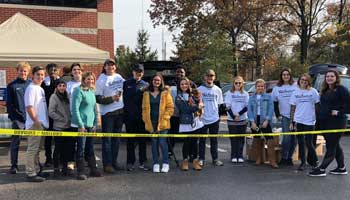 The students were invited to compete against student marketing teams from other local universities in developing a hyper-local marketing plan for local Chevy dealers. The Chevrolet Local Marketing Association gave each team a $2,000 budget to plan and execute a marketing plan for one of General Motor's Chevy vehicles. The students were required to hold an experiential event and shoot a 30-second spot.
The $2,000 was used to purchase 717 pairs of socks, which were used to fill up the trunk and back seat of the Spark. That vehicle was then parked outside of Grant Gymnasium during a basketball game and audience members were invited to sit in the vehicle, review it's features and guess how many socks were in the car for a chance to win a Nintendo Switch gaming system. A Chevy Trax also was on display.
Afterward, the socks were then donated to Places for People, which will distribute them at a local homeless shelter. Places for People issued a press release about the student project.
The team measured the engagement from the community, presented it during the competition and was awarded the top trophy in the competition at a ceremony on Dec. 4. Two of the students in the class also were invited to discuss the competition and the sock donation during a segment of "Great Day St. Louis" on KMOV Dec. 19.
The students who participated in the marketing program are:
Andrew Groom
Kristina Ingersoll
Brandyn Robinson
Gina Reeves
Brittany Loretta
Ericka Hefflinger
Alexis Hoffman
Kevin Androff
Rea Bedalli
Enoch Body
Katharine Khamutov
Adam Lovell
Shane Donovan
Jacob Ploesser
Selma Sopovic
Mark Spewak
Abbie Thompson
Kaitlyn Crites
The students who shot the video are:
Ethan Canby
Miles Minnaar
Hannah Hollock
Justin Schmidt
Michael Baldridge
Webster University will have possession of the trophy for the next year. For more information about Webster's Advertising and Marketing Program, visit the program page.
An interview on KMOV's "Great Day St. Louis" with two of the students involved in the project is online.