Study Abroad Scholarships Awarded to 42 Students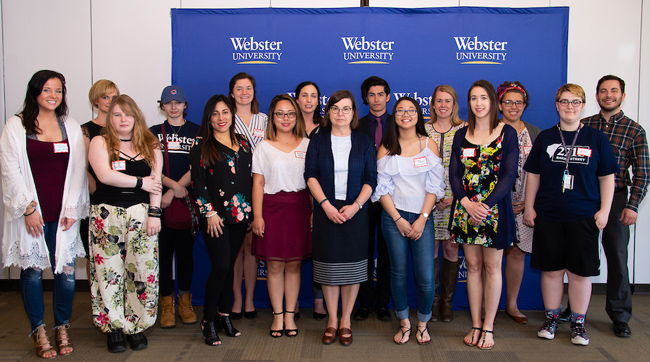 The Webster University Office of Study Abroad announced that study abroad scholarships have been awarded to 42 students going abroad on Summer 2018 and Fall 2018 programs. Overall, 26 students received awards for summer and 16 for fall.
Award amounts ranged from $500-$3,000, with the average award was around $1,000. Students were selected based on a variety of factors, including GPA, financial need, essays, and recommendations, and the specific requirements of each award.
Students who demonstrated both financial need and high merit received the highest amount of funding. A Study Abroad Scholarship Committee made up of Webster faculty and staff reviewed applications and made the final selection of awardees. A small reception to honor the recipients was held on May 1.
One recent recipient, Kassidy Davis, who is studying abroad in Guadalajara, Mexico, on Webster's exchange program at Universidad Autonoma de Guadalajara this fall, said that the funding she received helped make study abroad more affordable.
"The study abroad scholarship actually made my tuition completely free," Davis said. "I think that really helped convince my parents to let me go. It was a big motivator too: 'Okay, I got this. I can actually do this. Oh my god, I'm going to Mexico!'"
Study abroad scholarships are made available through generous funding from Webster donors with assistance from the Office of Advancement and the Office of Financial Aid. During the upcoming academic year (2018-19), the University is on track to provide over $100,000 in study abroad scholarships.
The Office for Study Abroad has seven awards that are offered every term:
The Next Century Leaders Endowed Scholarship Fund
The Marilynne Bradley Endowed Fund for Undergraduate Study Abroad
The Dr. Neil George Endowed International Study Scholarship
The Marianne E. Gleich & Peter A. Gleich Endowed Scholarship for Undergraduate Study Abroad
The Yakko and Richard S. Meyers Japan-University States Study Abroad Scholarship Fund
The Dr. Roy Tamashiro Endowed Travel Scholarship
They range in requirements, some are need-based others are merit-based, some give preference to undergraduates while others are open to graduates students as well. Students at Webster's international campuses who are studying abroad may also be eligible for scholarships.
The Study Abroad Vision Fund Scholarship was a one-time scholarship offered for Summer 2018 that went to students attending thematic research programs in Athens, Greece (Global Health and Inequality led by Eric Goedereis) or Cha'Am, Thailand (Inequality and the Environment led jointly by Danielle McCartney and Kate Parsons).
Applying for Study Abroad Scholarships
Scholarship deadlines are Feb. 28 (Summer), March 30 (Fall), and September 30 (Spring) and students can apply online via the Office of Study Abroad web site.
Regarding the scholarship application process itself, Davis said, "The process was actually pretty painless. I had to write three short essays but other than that it was simple because one application is used for all of the scholarships."
In addition to the scholarships mentioned above, the Office of Study Abroad administers the World Wide Traveler Program (WWTP), which offers students the opportunity to receive a free round trip ticket to one of Webster's International Campuses or International Partner institutions. The main criteria for the WWTP is that students must be studying abroad for at least one term, taking a minimum of six credits, and attending a Webster study abroad program. For more information on study abroad scholarships, please visit the Office of Study Abroad Scholarships page.