Study Abroad in Spring 2017: Application deadline Sept. 30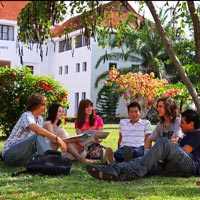 Encourage your students and classmates to study abroad next semester! The deadline for study abroad applications for the Spring 2017 term has been extended until Friday, Sept. 30.
Additionally, housing scholarships are being offered for students who study abroad in Thailand, which when combined with the Webster World Traveler Program, means free housing and airfare.
Webster's network of international campuses provides students the opportunity to explore the world while making progress in their degree program.
Contact the Study Abroad office (Sverdrup 307, worldview@webster.edu, 314-968-6988) or visit the Study Abroad site to learn all about the programs and resources available to help find the right once-in-a-lifetime study abroad opportunity.