Studying by the American Curriculum in the Heart of Europe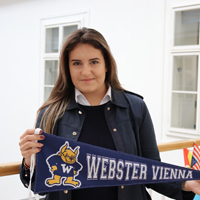 As a student from Bulgaria, Dilyana Pavlova lights up when discussing her choice to pursue her studies abroad in beautiful Vienna. A second-year student of Business Administration shares her experience of studying at an American university in the heart of Europe, and her everyday life as a student at the Webster Vienna Private University.
Why have you decided to pursue your education abroad?
I think that studying abroad can shape a person in a way that no other experience can. I was set on studying abroad since high school, because I believed it will give me a lot of opportunities which I might miss if I stay in my home country, Bulgaria. The global workforce is evolving in such a way that just having a degree is not sufficient. Whether staying in Austria or Bulgaria post-studies, I wanted to dive into another culture as part of my experience. Studying abroad is helping me to develop a sense of independence and also taught me how to take care of myself, something that could have taken more time if I stayed at home. I was also given the chance to meet a lot of people from diverse cultures, as well as see different approaches of teaching just by pursuing a degree 1000 km from my homeland.
You chose Webster Vienna Private University. What impacted your decision?
It was in 2016 when I first learned about Webster Vienna, as I visited one of the organized Open House events and formed my opinion on what I saw in person rather than solely online. I would advise anyone curious enough to do the same if they have the opportunity. I saw in person what Webster Vienna offered and knew I would like to be part of the experience. I really like the international element of the university and also the fact that Webster Vienna students earn diplomas accredited on two continents. Having European and American diplomas can be of great advantage and boost the chances of obtaining a dream career or field of interest. While our programs are structured from an American university curriculum standpoint, our courses are taught by multinational professors which truly places students at an advantage.
You are studying Business Administration. Can you tell us a little bit more about the program and professors?
I chose Business Administration as it offers a bit of everything in many ways. It presents the freedom to be flexible and is perfect for anyone who is unsure of which aspect of the business they want to pursue. The professors of any university play a crucial role in their student's academic path. The WVPU professors are very efficiently sharing their knowledge with their students, I enjoy the fact that each class is enriched by the culture of the professor regardless of the curriculum, and that is one more advantage of studying on an international campus.
WVPU follows an American curriculum that differs from that of what is taught in Europe. What are its advantages?
Studying by the American curriculum in the heart of Europe can bring many benefits, which cannot be grasped by obtaining only the Austrian accreditation. The American curriculum for Business Administration, specifically, is focused on innovative thinking, responsibility and offers a different view of corporate management.
WVPU offers a wide range of clubs, organizations and other programs for their students. Are you actively involved in any of them?
Campus life is a huge aspect of being a Webster Vienna student, similar to many American universities. There are many clubs, student organizations and programs customized for student growth or just social life outside of exams and academia. I joined the Student Government Association and find that it is for anyone striving to make a change or contribute to the Webster Vienna community. Aside from the decision making that we make on behalf of the student body, I managed to meet a group of wonderful people who share one collective goal – helping all students at Webster Vienna. The Webster Vienna LEADS program is also a really interesting club, as it provides for students with leadership opportunities. I joined the program very recently and am looking forward to participating in the club workshops and leadership activities.
Vienna is ranked as the city with the highest quality of life for the 10th year running, as well as the most livable city for the second year in a row, according to The Economist. How is this reflected in your day to day life in Vienna?
Vienna is a beautiful city with lots of history and a lot of interesting things to see. The city is well organized with very strong infrastructure. From a daily perspective, I enjoy the comfort of the very fast public transport as well as how clean this city is. The air is really clean and Viennese locals are helpful, almost everything is in English which is a plus for tourists and ex-pats who lack fluent German. I think that the ranking is true to reality.
What are your plans after graduating? Where do you see yourself in five years?
Aside from finishing my bachelor's degree, I would like to continue further with my education. Before that, I wish to gather some experience and apply the knowledge gained at Webster Vienna. I would love to be an intern in an insurance company to collect some hands-on experience and also to further confirm my decision to pursue the career path I have in mind. I have learned that the less we plan in life, the better it turns out, so in five years I can't imagine myself in a specific position or at any step of the career ladder. I aspire to see myself happy, healthy, surrounded by wonderful people and hopefully pursuing something I like and enjoy.
***
The interview with our, Webster Vienna student, Diliyana Pavlova, was published in the latest STA Magazine edition.