2017 Summer Media Camps for High School Students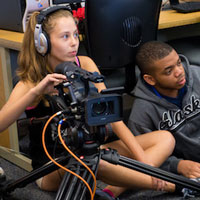 Calling all high school filmmakers, recording artists, gamers and sports announcers: The popular high school summer camps offered by the Webster University School of Communications are being offered again in summer 2017, now with two additional topics for getting a jump on your experience in media.
This year, in addition to camps in Filmmaking and Music Recording, we will be offering Game Design and Sports Communication camps in 2017.
Enrollment for each camp is limited, so early registration is encouraged. All summer media camps are held 9 a.m.- 5 p.m. each day at the Webster Groves campus. Overnight accommodations may be available.
Filmmaking June 12-16 (see Screenwriting Contest note below)
Music Recording June 12-16 or June 19-23
Game Design June 5-9
Sports Communication July 10-14
Screenwriting Contest: The School of Communications is also holding a High School Screenwriting Competition. The winning script will be used during Filmmaking Camp and produced as a film. The winning scriptwriter will receive an iPad mini, as well as the opportunity to attend the Filmmaking Camp at no charge. Entry deadline for this is Monday, April 10, 2017.
For more information on all School of Communications camps and to register, please visit: webster.edu/communications/news-events/mediacamps.html.
More Camps: Music, Dance, Chess, Athletics
For information on all summer camps at Webster University -- such as camps around dance, jazz, athletics, chess and more -- visit www.webster.edu/summer.