Join the Webster Sustainability Coalition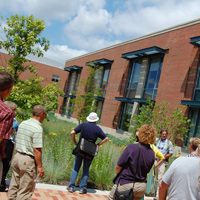 Webster University community members are invited to join the Webster University Sustainability Coalition, an open, voluntary, stakeholder forum that anyone on the Webster Groves campus may join and contribute to the conversation for a sustainable campus and community.
The coalition promotes ongoing activities led by faculty, staff and students on and off campus aimed at developing and implementing sustainability-focused goals.
Among other activities in the last year, the Coalition secured a grant to procure two more outdoor solar-powered waste compactors, developed the first campus-wide Sustainability Week and are currently working to launch a bike share program this fall.
The next meeting will take place in East Academic Building Room 392 at 1 p.m. on Friday, Sept. 15.
Contact Kelsey Wingo, sustainability planner, at kelseywingo07@webster.edu for more information.
Visit the Sustainability Coalition page for more and to see additional resources about sustainability at Webster.