Webster Wins Green Business Challenge Award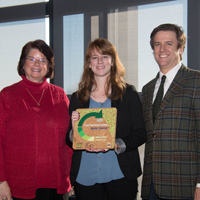 Webster University has again won an Award of Merit in the annual St. Louis Green Business Challenge.
The 2017 award recognizes Webster for being one of the top three performers in the Champion category, the top tier, where it finished in second place. Recipients were praised for "driving both internal greening and the value of sustainability as a business practice for our regional economy as a whole."
Kelsey Wingo, sustainability planner for Webster, accepted on behalf of the University at the Challenge Awards Luncheon this month.
Webster University was also an Award of Merit recipient in 2016, at the Leaders level.
Accomplishments and Innovations
Several accomplishments and innovations contributed to Webster receiving this recognition at the Champion level in 2017, Wingo said.
"In the spring of 2017, Webster University hosted its first-ever campus Sustainability Week in partnership with the Student Government Association (SGA)," Wingo said. "Events included environmental justice lectures, and an opportunity for students to make pots for plants with found materials."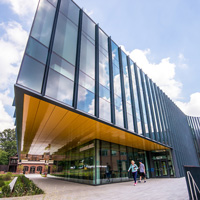 Also during that Sustainability Week, Webster University performed its first campus waste audit in five years with the help of the Earthways Center and the (SGA). Students gained a better understanding of campus waste streams.
On campus grounds, Webster University installed five recycled plastic patio tables which are accompanied by ZON umbrellas with solar-powered charging capabilities.
The 2017 edition of the popular Sustainability Summer Lunch & Learn series experienced maximum capacity and moved from eight sessions to 10. This year's theme, "Connecting the Dots," helped bring together local Webster community members and sustainability resources from all over the St. Louis area.
This year's annual human rights conference, presented by Webster's Institute for Human Rights and Humanitarian Studies, also had an environmental justice theme. The conference included representatives from the NAACP, Gateway Green, Great Rivers Environmental Law Center and many others.
And the newest addition to campus, Browning Hall, the Interdisciplinary Sciences Building opened in 2017 and was designed to meet LEED silver specifications.