Summer Sustainability Wednesdays Lunch Series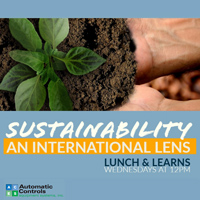 Join Webster University Sustainability Wednesdays from 12-1 p.m. during the summer months beginning May 30. Learn about strategies and solutions being created and used right here in our local community to improve environmental, social and economic sustainability on a global scale.
The lunch lectures will take place every Wednesday during summer with free box lunches provided! After the final session on Aug. 1, attendees will be entered into a drawing to win a free copy of Missouri Harvest: A Guide to Growers and Producers in the Show-Me State! Attendees will receive an entry for each session attended.
More details, such as speakers and building/room locations, can be found online at webster.edu/sustainability. Parking is available in Garden Park Plaza parking garage.
For more information contact Kelsey Wingo at kelseywingo07@webster.edu. RSVP online to reserve a spot and a lunch!
Schedule
*Subject to change. Be sure to RSVP for events you plan to attend.
May 30: "Local Impacts and Global Goals"
Tom Zinselmeyer, SLUH teacher
Library Conference Room
June 6: "Crossroads of Immigration & Sustainability"
Diego Abente, International Institute of St. Louis
Sverdrup, Room 110
June 13: "The Importance of Eco-Literacy"
Brandon Vernhoff
East Academic Building room 253/262
June 20: "The Era of Living Buildings"
Emily Andrews, Missouri Gateway USGBC
Library Conference Room
June 27: "Understanding a Growing Population"
Dane Kamin, Population Connection
Library Conference Room
July 11: "How Do We Fit into Nature?"
Chris Parr, professor, Religious Studies, Webster University
East Academic Building room 253/262
July 18: "Resource Scarcity: All for One, One for Who?"
Sheila Anglin Jordan, Webster University School of Education
East Academic Building 102
Aug. 1: "Youth in the Climate Fight"
Natalie Lucas, Care About Climate
East Academic Building room 253/262