Reflecting on Webster's 3-Year Streak as Award-Winning Green Business Challenge Champion
Webster University continues to perform as a leader in environmental sustainability in the St. Louis area. The St. Louis Green Business Challenge recognized the university in 2018 with the third Award of Merit for the creation of the campus bike share program, the fall Swap Shop that helped supply clothing and school supplies to the Fall 2018's incoming students, and various water and energy conservation projects across campus.
Recycling & Waste on Campus
In late 2018 and early 2019, the entire nation felt the impact of China pulling away from being a major consumer of recycled material. As a result, standards and costs for materials went up. Webster University responded by updating and simplifying marketing materials, conducting monthly walk-throughs of buildings with the Sodexo Custodial Staff to identify challenges, and reconfiguring campus infrastructure.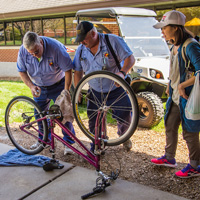 The best thing that the campus community can do is be thoughtful about what you are throwing away and purchasing. Everyone should always do their best to reuse by bringing your own utensils, water bottle, and coffee mugs!
In addition to recycling efforts, Webster University has been taking significant strides to move surplus materials into the hands of those who need it.
Through a partnership with the St. Louis Public Schools, several loads of the university's surplus tables, chairs, file cabinets, desks, and other items made their way to various schools in the district.
Education & Engagement
This year's Sustainability Week saw students, faculty and staff gather to create their own planter from out-of-circulation library books and upcycled milk cartons. A repair fair gave the opportunity for students to learn sewing and maintenance skills as well as keep fixable items out of the landfill.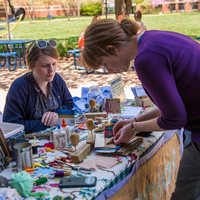 Students and staff came to listen to a panel of local non-profit professionals from organizations including EarthDance farms, the MCISA and the Saint Louis Zoo to talk about the various paths one can take for a prosperous and fulfilling career in the public service sector.
Continuing in the path of education and community collaboration, the Sustainability Office will be hosting the third annual Lunch & Learn series on every Wednesday from May 22 through June 26 in the Emerson Library Conference Room. Details and options to RSVP can found here, or at webster.edu/sustainability.
For questions, comments or suggestions regarding campus sustainability initiatives, please contact Sustainability Planner Kelsey Wingo at kelseywingo07@webster.