Sustainability Week April 23-27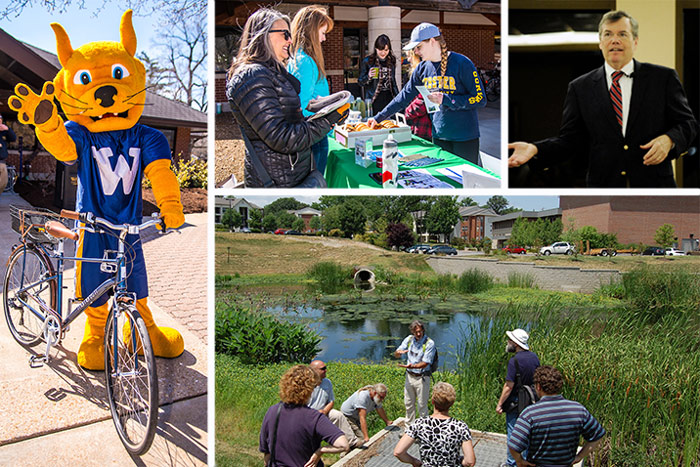 During the week of April 23-27, the Webster University Sustainability Coalition and Sustainability Office are partnering to host the second annual campus-wide Sustainability Week. Sustainability Week will provide ample opportunities to educate oneself and think critically about the most prevalent issues being faced by our natural world.
The week will be comprised of a wide variety of events and opportunities for the campus community to make a greater connection with our campus's built and natural habitats.
Among the activities: a Natural Area Clean Community Clean up event to work in and enjoy the outdoors, a seminar led by visiting Woodrow Willson Fellow Robert Musil on civic engagement and creating students leaders, and a Repair Fair for the campus community to fix up their worn and broken household items – as well as learn skills to take maintain clothing, small electronics, bicycles and more!
Webster University's Sustainability Week will kick off with a Pop-Up Free Store of office supplies and home goods in the bottom floor of Webster Hall at 10 a.m. on Monday, April 23.
Monday, April 23: Beginning at 10 a.m., a Pop-Up Free Store will be set up on the bottom floor of Webster Hall. We have got some office supplies and home goods that will be on display for anyone to take home, and all are welcome to drop off their own gently used items at the Free Store. The Free Store will be up all week!
Tuesday, April 24: Head on down to the Natural Area at 9 a.m. with the Sustainability Office and Biological Sciences Department's Mary Preuss and Nicole Miller-Struttmann's class for some honey suckle hacking and general springtime outdoor enjoyment. Supplies will be provided, but we encourage folks to bring gloves and loppers if you have them!
Wednesday, April 25: At 12 p.m. in EAB 253/262 Dr. Robert Musil will be participating in a one-show run of the Webster University 2018 Sustainability Lunch & Learn lecture series to discuss the vision of a world lead by youth raising their voices and their hands in politics. Dr. Robert Musil is the President and CEO of the Rachel Carson Council, as well as a Senior Fellow and Adjunct Professor at American University's Center for Congressional and Presidential Studies. We encourage guests to bring their lunch and join our discussion about how the young adults of the world can continue moving into their roles as the true movers and shakers of social change.
Thursday, April 26: Join the Facilities Staff and Perennial STL for the campus' first ever REPAIR FAIR on the University Center patio beginning at 11am! Bring your broken but still lovable household items, clothing and/or bicycles to get a tune up and learn some new skills from our resident experts.
Friday, April 27: At 3 p.m., student team will be competing in the LIGHTS OFF! Challenge where they will be powering down classroom lights and computers (as long as class in not being held at the time) for the weekend!
Find out more details at webster.edu/sustainability, and for questions or more information, contact Kelsey Wingo at kelseywingo07@webster.edu.