Columbia Counseling Professor Reflects on Sverdrup Fellowship in Geneva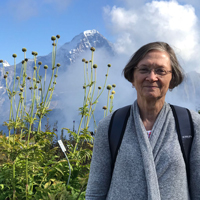 Jennie Band, who has been an adjunct faculty member with Webster University at the the Columbia Metropolitan Campus in Columbia, South Carolina, is spending this Fall 1 term teaching at the Geneva campus.
She received a Leif J. Sverdrup Global Teaching Fellowship, which is making it possible for her to teach a graduate counseling course at Webster Geneva.
"I'm so excited and honored to be here in Switzerland for this amazing global adventure," she said. "I am grateful to my home campus in Columbia for their support and to my host campus in Geneva for welcoming me with open arms to their beautiful campus."
In addition to teaching a school counseling course this term, Band is sharing her experiences as a board-certified music therapist by presenting a five-hour workshop on campus, "Music in Counseling: A Harmonic Collaboration."
Band is also taking full advantage of being in Switzerland by traveling throughout the country.
"As always, I'm learning so much from my students, and living and working in Geneva is taking the teaching experience to a whole new level for me," she said. "I hope many of my counseling colleagues will consider applying for a global teaching fellowship. It is the opportunity of a lifetime!"
Global Teaching Fellowship Applications
The Leif J. Sverdrup Global Teaching Fellowship is the university's in-network faculty mobility program open to full-time and adjunct faculty. The program provides the opportunity for faculty members across the Webster network to travel to teach at one of the following Webster international campuses: Athens, Geneva, Leiden, Vienna, Accra, Cha-am/Bangkok, St. Louis (main campus and Gateway campus).
Applications for the fellowships for use in Fall 2019 are now open until Oct. 15, 2018.