Webster Prepares to Welcome Students in Summer TAP Program

TAP, a component of the Transitions program, serves first-time freshmen and transfer students with fewer than 30 credit hours. The 10-day residential program centers sharpening college-level writing and research, academic integrity, and citation skills while supplementing with navigating campus resources. TAP provides an immersive view of college life via classroom learning, civic and social engagement, and peer interaction.

July 17 marks the beginning of the annual summer TAP (Transition and Academic Prep) program for 2019. Participating students will reside in Maria Hall with past TAP participants serving as Resident Assistants and mentors.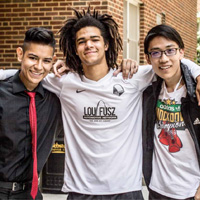 While TAP is housed in the Academic Resource Center, many departments aid in its success. Presentations from departments include First Year Experience and Undergraduate Persistence, Career Planning and Development, Emerson Library Staff, Counseling and Life Development, Student Employment, and Title IX.
The program will also include separate panel discussions from Webster instructors and students, respectively. English department faculty will serve as instructors for WRIT 1000 and will challenge students' thinking and help them explore their writing abilities.
Planned Learning & Activities
Additionally, the students will have compulsory sessions with Academic Resource Center Writing Center coaches to assist with course assignments. Other compulsory sessions include Financial Aid and Academic Counseling (in the ARC). TAP includes a wide range of opportunities for students to engage with each other, both on and off campus, with activities such as the campus scavenger hunt and swimming at the Shrewsbury Aquatic Center.
To further spark engagement, each year the program employs former TAP students as Resident Assistants as mentor to participants during the program and the school year.
Be sure to welcome the newest Gorloks as you see them exploring campus July 17-26!
TAP Credits
From its initial 3-day offering to now 10 days and several participating students to more than 30, TAP has grown in numerous ways since its inception in 2011. It continues its growth in 2019 and will now will now grant three free credits upon successful completion. Students will receive 2 credits for WRIT 1000 (Basic Writing Workshop) and 1 credit for Webster 101. For more information, contact Corey Hawkins, Transitions and TAP program coordinator (coreyhawkins90@webster.edu).