TAP Preps Incoming Students for Transition, Success at Webster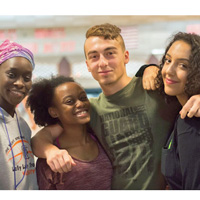 The 10-day TAP (Transitions & Academic Prep) program this summer helped prepare another group of new students for the rigors and resources of college academics and Webster University.
Begun in 2011 by the Academic Resource Center as part of the larger Transitions program, the annual initiative has grown each year. This year's cohort of 37 students included 19 first-generation college students, with more than half identifying as minorities. The program is designed for freshmen and transfers students with fewer than 30 credit hours who are admitted with conditions to Webster.
During their program, students meet faculty, take workshops on financial acumen and writing skills, learn about resources available to them at Webster, become acquainted with academic expectations and typical university course structure, and much more.
The residential aspect and planned social activities help form a community among the group, one that is palpable in their feedback after completion:
"I had mixed feelings about what I was getting myself into, but little did I know it was and is a HUGE blessing in disguise," one student said. "I met these beautiful souls and I wouldn't trade my new family for anything - words can't begin to express how much love and positivity these past 10 days were filled with, and how many opportunities and relationships were formed. I can't wait to spend the next 4 chapters of my life with these amazing people. Go Gorloks!"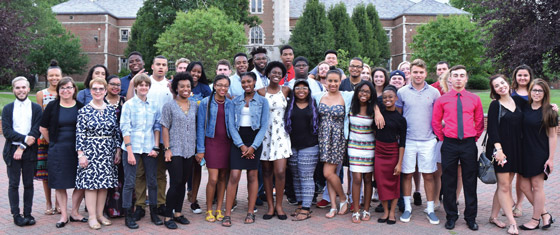 TAP participants continue to see an academic counselor weekly during their first semester at Webster. In addition, are enrolled in a Learning Strategies course, another component of Webster's commitment to their success.
'TAP'ping into the Webster Network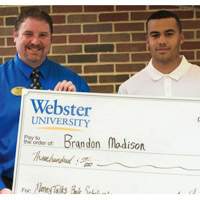 A variety of contributors from throughout Webster University help make such a significant student experience possible. Among them:
Academic Affairs - funded program costs and tuition for two academic credits available for completion.
Academic Advising - assisted with student registration and marketing of the program at Registration Days.
Housing and Residential Life - donated two floors of student hoursing space in Maria Hall, conference assistants, use of residential facilities, and student staff support.
Career Planning and Development - facilitated workshops tailored to particular majors and provided extensive strengths-based training with the TAP Resident Advisors.
Sustainability - designed and hosted the Sustainability Games, a new feature this year.
University Library - introduced students to the library and its available resources.
Office of Study Abroad - hosted a workshop that showcased Webster's international campuses and resources available to help students plan to study abroad.
Faculty - met with students to discuss their majors, outline expectations, and answer questions during the "Lunch and Learn" event.
Office of Admission - recruited conditionally-admitted students for participation in TAP.
Office of Financial Aid - provided one-on-one meetings with students to help them understand their individual financial aid award.
Office of First Year Experience Programs - facilitated a MoneyTalks session, sponsored transportation to the City Museum and earmarked a $300 book scholarship for a TAP student

.

Multicultural Center and International Student Affairs - facilitated a diversity session focused on confronting issues of race through dialogue.