Uzbekistan Alumnus Awarded National Medal for Volunteer Work During Pandemic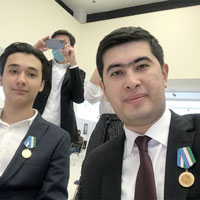 Fazliddin Bakhromov, a Webster University in Tashkent alum (MBA '20), has been recognized with a medal for his involvement in volunteerism during the COVID-19 pandemic in Uzbekistan.
Bakhromov and other members of the COVIDarnost volunteer group were presented with medals during a ceremony on Oct. 10. An awards ceremony to present this medal was held not only in the capital, but in all regional centers of the country. Bakhromov will also be recognized with the medal Kelajak bunyodkori (Builder of the future) in December.
The medal Mehr-Saxovat (Mercy and Generosity) was awarded to people who selflessly helped others during the ongoing pandemic. People awarded this year included coordinators of volunteer centers, journalists, bloggers, and heads of public organizations. In particular, many of the awarded people were those who volunteered their time and resources toward providing food, medical, or other assistance to vulnerable populations.
Mehr-Saxovat was created this year in May by decree of the president of Uzbekistan to award people who showed outstanding courage and selflessness in helping others during the pandemic, natural disasters, and other emergencies.
Read more about Bakhromov's volunteer efforts and the unique population they are helping to serve in the this May 10 article from the Webster Journal, "Uzbekistan student helps thousands of families during COVID-19."