Tashkent MBA Student Assists Those in Need During COVID Outbreak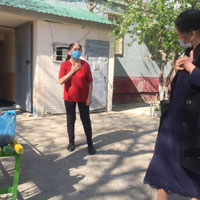 Fazliddin Bakhromov, an MBA student at Webster University in Tashkent, is one of the first members and organizers of a group aimed at providing assistance to seniors living alone as well as people with disabilities.
The group, called COVIDarnost - a play on the Russian word for "solidarity" - was formed on March 28. It initially had only 27 members, quickly growing to around 1200 members after 5 days of existence.
In Uzbekistan, neighborhood communities are organized into local small government units called mahallas, which report to the district mayor's office. COVIDarnost would request information from district mayors' offices in Tashkent about households with low incomes that would likely need help. For the first district, a group of 27 people bought sets of groceries with their own money. They ended up having 12 volunteers delivering donations to 40 families. This process grew and donations began to be collected via e-transfer, allowing more households to be covered.
The next district saw 15 volunteers delivering grocery sets to 140 families. One of the volunteers bought 50 sets of groceries with her own cash. At that point the group had grown to 500 volunteers. By the third district, Fazliddin was coordinating distribution efforts himself. The group purchased 120 sets, and received a donation of another 25 sets which were distributed to around 150 households.
Fazliddin noted that it's very difficult for the local community's governing units to know every person who needs help. COVIDarnost started to collect information about families who require assistance due to loss of income or other circumstances. People could message group members to provide the information of a neighbor who needs assistance for any reason, be it an inability to go out, a lack of transport options or just those who may have no relatives in the city.
Recently, the government announced a ban on individual donations, for fear that distributions could spread the virus to the very people who require help. However, this doesn't mean that COVIDarnost is disbanded.
On the contrary, Fazliddin says, "We are working with the office of the Mayor of Tashkent to create a warehouse in the center of the city, where grocery sets will be collected into a central location, disinfected, and then delivered in sanitized vans by volunteers wearing protective gear. This will also include medicines. The government will buy the most necessary groceries from public funds and volunteers can add what they want."
Fazzliddin also mentioned work being done to build a database that would inform the government of those in need of assistance. A call center is being established as well, giving another option for those that might need to reach out on their own for any assistance.