Webster University in Tashkent Receives Education Grant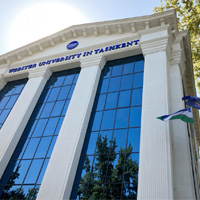 (TASHKENT, UZBEKISTAN) - Webster University in Tashkent was awarded a $25,000 grant to host the new "English for Professionals in Mass Media" course in partnership with the U.S. Embassy in Uzbekistan. The grant, which was awarded by the embassy, will teach English to media professionals in Uzbekistan, so that they can gain more access to international sources of information and can better connect Uzbekistan with the rest of the world through media.
"Applications for the grant will be open to any media professionals working in Uzbekistan, at varying levels of English – beginner, intermediate, and advanced," said Malika Baratova, Webster Tashkent PR Executive. "If accepted, their studies will last between three and nine months, depending on their starting level. The classes will give them English language skills for their specific professional needs."
Baratova also said that as part of the program, participants will also post their journalism projects on the program's site, which is still be created. "This will encourage others in the country to raise their language skills and might provide some interesting insight for those outside Uzbekistan," she said.
Hilola Samatova, adjunct professor at Webster Tashkent, and writer of the grant, said that the need for the English for Professionals in Mass Media course arose from two main problems. The first is that in the past, mass media and journalism lacked the support needed to meet the public's needs.
However, Samatova said that the government putting more attention into developing mass media and journalism, along with many changes in external and internal policy in the past three years has increased the need for mass media courses. "I believe that the US Embassy in Tashkent is taking this chance to help mass media professionals to have greater access to information from around the world, published in English, so they can report on it in Uzbek, making the entire world's changes and news available for our population," she said.
There is a second reason the course is needed, said Samatova. "Media professionals, including journalists, PR experts, and bloggers, generally do not have a good grasp of English, so their sources of information about international and foreign news were very limited."
By combining a media course with an English as a Second Language (ESL) course, Samatova said the University hopes to move Uzbek journalism forward. "An expected outcome for the media professionals taking this course is that they will take charge of the narrative about Uzbekistan and will also have a chance to meet other internationally-minded media professionals, build new networks, and support each other," she said.
According to the grant, the structure of the course was designed to accommodate the needs of working professionals, with classes in Tashkent held three times a week, from 6:30 p.m. to 8:00 p.m. Future plans include offering the course in regional areas through internet-based synchronous and asynchronous learning. "We also expect to expand the program to other English for Specific Purposes (ESP) programs, such as for medical, education, business, and other purposes," added Samatova.
Samatova said that the grant will cover two years of the program and will sponsor faculty and facilities. "This way, the students do not pay anything, although in the future as we expand the courses, there might be a nominal tuition fee."
"Winning this grant is a prestigious event for Webster University as a whole. Webster Tashkent was selected from among a number of other international universities in Tashkent, some of which have been around for 10-20 years. This is also the first time the grant is being awarded, and we are honored to have been chosen as the pilots of this new venture," Samatova said.
She continued, "We have the chance to help media professionals gain a global outlook, broaden the sources they use, and tell Uzbekistan's story to the rest of the world."