Webster Forms Task Force on Transition and Adaptability in Pandemic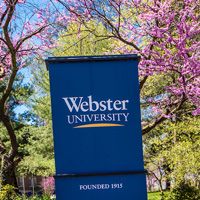 Webster University has formed a Task Force on Transition and Adaptability to manage its return from remote operations and to address on-going community and operational needs resulting from the COVID-19 pandemic.

Consisting of three working groups, the task force will maintain continuity for Webster's annual planning process while ensuring that process is informed by and adaptable to the evolving and unique circumstances of the pandemic.

The task force will build on the existing planning framework while also enabling a transition back to campus-based operations that prioritizes the health and safety of Webster's students, employees and guests.
"The safety, security, and health of all members of our community will continue to be a foundation of our decisions," said President Julian Z. Schuster.
The three working groups and their focus areas are:
Transition to Campus-Based Operations
(domestic U.S., with guidance for international campuses as appropriate)
Focused on:
Students (residential life, student life and activities)
Employees, including transition back from remote operations
Athletics
Group lead: John Pyle, chief innovation officer and vice president of Enrollment Management
Safety, Security, and Communications Support for Transition to Campus-Based Operations
Focused on:
Safety measures
Mitigation options to protect safety of community during transition
Guidelines for social distancing, density, gathering size, etc., as needed
Group lead: Rick Meyer, chief financial officer
Academic Continuity & Support
Focused on:
Scheduling
Course delivery options and guidelines for in-person academic experiences
Academic support for students (including technology)
Support for faculty (including technology)
Group lead: Nancy Hellerud, vice president for Academic Affairs
Further information will be communicated as the composition of the working groups is finalized and the Task Force on Transition and Adaptability commences its work.