Statement Regarding Tax and Higher Education Bills in Congress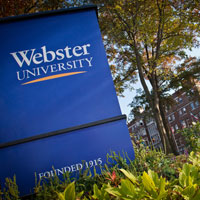 To the University Community:
During the past three months, we have diligently worked with relevant national educational organizations and Washington, D.C., government relations representatives to follow the progress of the Tax Cut and Job Acts bill that the U.S. Congress has scheduled for a vote next week. We have made numerous contacts with our elected representatives and shared our concerns that aspects of the bill will decrease resources for higher education, increase costs, and impact the access for under-represented students to an affordable education.
Earlier this week, we spoke to KMOX Radio about the bill and had a similar conversation with KSDK Television last night. The KMOX interview can be found online. We will share a link to the KSDK interview in Webster Today if it is posted online.
On Wednesday, a reconciled version of the bill was completed by the joint House-Senate Reconciliation Committee, but the text of the bill will not be made public until Friday night. Congressional leadership announced the bill would likely be put to a vote on Monday or Tuesday. This makes it difficult for us to release a detailed analysis of how the bill will affect Webster because we don't have the final details. As soon as details become public, we will communicate those with you.
Currently, we also are working with our partners in Washington D.C. to follow the development of the PROSPER Act (the reauthorization of the Higher Education Act). There are elements of that bill that also could have a detrimental impact on our students.
We will continue to track progress on both bills and make our opinions known to our representatives before both pieces of legislation are voted upon by Congress. If you would like to contact your representative, you can find their contact information at https://www.usa.gov/elected-officials. We will communicate the most pressing issues that can benefit from our advocacy when we know more.
Elizabeth (Beth) J. Stroble
President
Julian Z. Schuster
Provost, Senior Vice President and Chief Operating Officer