Webster Teaching Festival 2020 Call for Proposals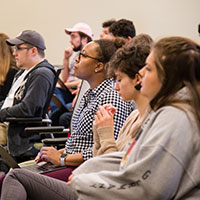 The Teaching Festival Committee is now accepting proposals for presentations and posters for the 10th annual Webster Teaching Festival. The Teaching Festival will be held the week of Feb. 10, 2020, and proposals will be accepted until Dec. 20, 2019.
All Webster instructors, part-time and full-time, are invited to participate, and proposals may address any of the following topics:
Teaching for inclusion and equity
Strategies for supporting student success
Active learning and collaborative learning strategies
Reflection and metacognitive activities that help deepen student learning
Fostering student ownership of learning and supporting student motivation to learn
Assessment and continuous improvement of teaching
Creative and collaborative technology that enhances student learning
Experiential learning opportunities and high-impact practices
Proposals accepted until Dec. 20
Proposals will include the presenter's name, a title of your proposed project, and a short project description (200 words max). Submit your proposal here.
Co-presenting with colleagues and with students is encouraged, and all proposals are welcome. For questions about the event or for assistance developing your proposal, please contact Liza Dister, faculty development coordinator, at edister17@webster.edu.
Review past Teaching Festival projects here.
The Teaching Festival is sponsored by the Faculty Development Center in partnership with the Academic Resource Center, the Online Learning Center, and the University Library.