Tuesday at the Teaching Festival: Student-Centered Learning, Integrative Learning, Office365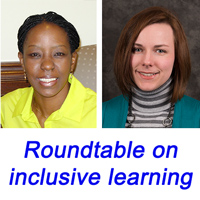 The annual Webster University Teaching Festival continues Tuesday with a roundtable discussion on ensuring student competency while supporting student success, a panel presentation with Webster students on integrative learning, and a workshop focused on Office 365.
Faculty, staff, and students are invited to participate in the week's events. Tuesday's roundtable will also be available globally via Webex online stream.
Participants are encouraged to RSVP by clicking here.
A complete program of activities can be found on the 2018 Teaching Festival website.
Tuesday Schedule
ROUNDTABLE DISCUSSION, 10:30-11:30 a.m. CST, FDC Suite (Library 420)
Navigating the Dialectic Between Responsible Gatekeeping versus Inclusive, Student-Centered Learning
Molly Stehn, Assistant Professor, Dept. of Professional Counseling
Muthoni Musangali, Associate Professor, Dept. of Professional Counseling
PANEL PRESENTATION WITH STUDENTS, 12-1 p.m., Library Conference Room (120)
Agency and Integrative Learning: Exchanging Letters
Bruce Umbaugh, Professor, Dept. of Philosophy
Samuel Harned, Student, Audit for Enrichment Program
Elizabeth Stanza, Student, Dept. of Philosophy and Dept. of Psychology double-major
WORKSHOP, 4:30-5:30 p.m., FDC Suite (Library 420)
Collaboration & Productivity in the Cloud - Leveraging the Power of Office 365 Apps
Angela Astuto, Instructor, Math/Computer Science Dept. and School of Education