Teaching Festival Preview: Faculty Workshops on Engaging Students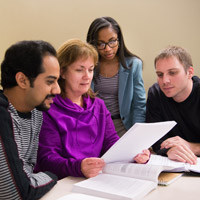 Faculty, students and academic partners are invited to attend two workshop sessions on Feb.16 about engaging students in the classroom by Julie Smith of the Communications & Journalism Department.
Session one: "Wake Them Up! Engagement Strategies for the College Classroom," will be held Thursday, Feb. 16, from 11 a.m.-noon in the Library Conference Room (Library 120)
Session one description: Would your students come to your class if they didn't have to? The days of "sit and get" learning are over. Come learn various techniques to engage your learners, even early on Monday mornings! Attendees will come away from this session with at least twelve new ways to engage students. Apps, websites, cell phone tools, tips and tricks - along with a pep talk on how to not be afraid to try new things in the classroom - will all be shared. Don't be a "sage on the stage." Engage your students. Make your class one they will remember.
Session 2: "Finding the Student Voice of the Introvert," will be held Thursday, Feb. 16, from noon-1 p.m. in the Library Conference Room (Library 120).
Session two description: We know that student voice is important, but what about our students who prefer not to use their voices? Have you ever had a classroom discussion in complete silence? In this session, I will explain why I think introverts don't need to be "fixed" and that there are many ways to participate without their actual voices. Attendees will learn how to use Twitter, Padlet, Cell Phones, Remind, Meme Generators, Image Creators and other classroom engagement tools to make sure the voice of the introvert is heard and understood in the college classroom. Let's create a university classroom where all types of voices are heard and appreciated – not just those of the "Hermoines." The introvert's mouth might not be active - but their minds certainly are. Let's stop ignoring them.
Participants are encouraged to RSVP by clicking here.
These presentations form part of the 2017 Teaching Festival, brought to you by the Faculty Development Center, the Academic Resource Center and the University Libraries. A complete program of activities can be found on the 2017 Teaching Festival page.