2020 Teaching Festival Schedule Feb. 10-14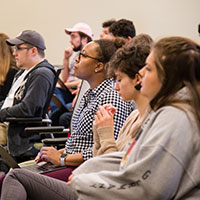 The entire campus community is invited to participate in Webster's tenth annual Teaching Festival, to be held Feb. 10-14.
This year's Teaching Festival will feature presentations by Webster faculty, students, and staff, with a focus on experiential and problem-based learning. Participants are encouraged to RSVP here for sessions they would like to attend.
The Teaching Festival is sponsored by the Faculty Development Center in partnership with the Academic Resource Center, the Online Learning Center, and the University Library.
Highlights of the week's activities include:
Research and workshop presentations by faculty, students, and staff
A reception with a poster session to celebrate ten years of the Teaching Festival
Sessions on experiential learning, faculty and students resources, and engaged learning
For a detailed schedule of all presentations, please visit the 2020 Teaching Festival website.
Date & Time
Location
Title of Event
Monday, Feb.10, 12-1 p.m.
Library Conference Room
Library 120
Teaching the Use of Simulation to Teach Others: A Study of Experiential Learning
Monday, Feb.10, 3:30-5 p.m.
Faculty Development Center Suite
Library 420
Reception and Poster Session
Tuesday, Feb. 11, 9-10 a.m.
Library Conference Room
Library 120
Combatting Textbook Costs: Finding Affordable (or Free) Course Materials Using EBSCO Faculty Select

WebEx link
Wednesday, Feb. 12, 12-12:30 p.m.
Library Conference Room
Library 120
Supporting Student Success: Collaboration Between the English Department and the Writing Center
Wednesday, Feb. 12, 12:30-1 p.m.
Library Conference Room
Library 120
Using Academic Resources to Further Student Engagement
Thursday, Feb. 13, 10:30-11:30 a.m.
Faculty Development Center Suite
Library 420
High Impact Practices: "Podcasts" and Radio Plays Using Galaxy Radio
Thursday, Feb. 13, 12-12:30 p.m.
Faculty Development Center Suite
Library 420
Project Based Learning: An Attempt at Cross Pollination
Thursday, Feb. 13, 12:30-1 p.m.
Faculty Development Center Suite
Library 420
An Introduction to Using Recent Graduate Voices in Our Work
Friday, Feb. 14, 12-12:30 p.m.
Library Conference Room
Library 120
Home Grown Projects
Friday, Feb.14, 12:30-1 p.m.
Library Conference Room
Library 120
PIE at Webster