Teaching Festival Preview: College Credit for What Adult Learners Already Know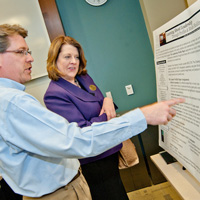 Faculty, students and academic partners are invited to attend a panel discussion entitled "College Credit for What Adult Learners Already Know: Helping Students Document Their Learning," to be held Wednesday, Feb. 15, noon to 1 p.m. in the Faculty Development Center Suite (Library 420).
Panelists:
Erica Ellard, director, Academic Resource Center
Victoria (Tori) Meyer, associate professor, Audio Aesthetics and Technology Department
Janice (Jan) Palmer, associate professor and chair, Nursing Department
Debbie Psihountas, professor of Finance and MBA program director, Business Department.
Session Description:
Learn more about Prior Learning Assessment (PLA). PLA allows students, particularly adult students,to earn credit for skills learned outside of a classroom. Its an opportunity for to Webster students, and four members of the Webster community to attend a workshop provided by the Council for Adult and Experiential Learning (CAEL) to learn more. This presentation will allow those individuals, who have certificates of mastery in assessing learning for college credit, to share some of the information they learned, including how manageable this process truly is and how it can be used to help Webster students matriculate, persist and graduate.
Webster students may enroll in the online course EDUC 1000: Educational Program Analysis to help them build portfolios for documenting their learning. The course provides them with a meaningful framework for understanding their learning as they take an active role in shaping and presenting it for review.
Participants are encouraged to RSVP here .
This panel discussion forms part of the 2017 Teaching Festival, brought to you by the Faculty Development Center, the Academic Resource Center, and the University Libraries.
A complete program of activities can be found on the 2017 Teaching Festival page.