Teaching Festival: 'Scholars Learning Community in the City of Webster Groves'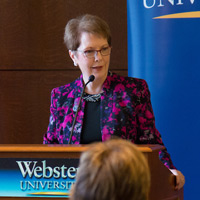 Faculty, students and academic partners are invited to attend the premier session of the 2017 Teaching Festival held on Tuesday, Feb. 14, from noon to 1 p.m. in the Emerson Library Conference Room, 120. The theme is "The Scholars Learning Community in the City of Webster Groves: Inquiry and Active Learning to Claim an Education."
President Beth Stroble; Kim Kleinman, director of undergraduate advising; and Sarah Riss, former superintendent of Webster Groves School District will discuss a collaborative First-Year Seminar project that examined Webster University's role in the larger Webster Groves community.
At the Fall Convocation, President Stroble focused on Community and Identity, Diversity and Inclusion, and recognizing Stigma and Bias. She highlighted our University community's role in the local community. With her help, the Scholars Learning Community's First Year Seminar aligned with and contributed to this effort.
This class was organized around a collective inquiry into Webster Groves from our variety of disciplinary perspectives and individual curiosities. Students explored the community's businesses, churches, cultural institutions, architecture, demography and history, reaching out to consultants in the community itself.
Sarah Riss, past superintendent of the Webster Groves School District, played a key role with the class as a whole, with individual students, and as a resource. This presentation will recount the results and lessons of the Scholars Learning Community's effort to bring Webster Groves into our learning as we become part of the wider campus and local communities.
Participants should RSVP here.
Program activities can be found on the 2017 Teaching Festival page.