Tenth Annual Collaboratory Sessions Announced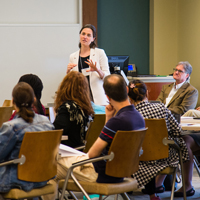 Faculty, students, and academic partners are invited to virtually attend the tenth annual Global Citizenship Collaboratory on Tuesday, May 19 through Thursday, May 21 via Webex video conferencing. The annual Collaboratory provides a space for the Webster community to share research, collaborate across disciplines, strengthen assessment practices, and explore new directions related to teaching and learning.
This year's Collaboratory will offer opportunities for participants to process the challenging transition to remote teaching and collaborate to envision what teaching and learning may look like this coming year. Participants will also discuss resources and tools that support remote learning and consider how to support the student experience and student success during this uncertain time.
We invite you to RSVP here and to check out the complete schedule with session descriptions on the Collaboratory website.
Collaboratory Schedule
Tuesday, May 19, from 9-11:45 a.m.
9-10:15 a.m.:

Welcome and Plenary talk, GROWing, Liberating, and Caring: The Global Citizenship Program Begins Its Tenth Year


10:30-11:45 a.m.:

Remote Teaching: Lessons Learned during an Era of Uncertainty
Wednesday, May 20, from 9-10:30 a.m.
9-9:15 a.m.:

Welcome

9:15-10:30 a.m.:

Teaching and Assessing GCP Skills: New Challenges and Opportunities
Thursday, May 21, from 9-11:15
9-9:15 a.m.: Welcome
9:15-10:30 a.m.: Resources and Tools for Remote Teaching and Learning
10:45-11:15 a.m.: The COVID Gap: What This Means for the First Year Student Experience
11:30 a.m.-12:30 p.m.: Lunch and Learn: Resources and Tools