TESL Education Faculty Candidate Visits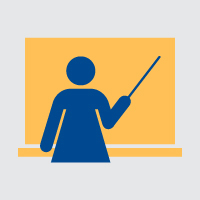 The Language, Literacy, and Leadership Department in the
School of Education has extended invitations to three final
candidates for the position of Visiting Assistant Professor of
Teaching English as a Second Language. This new faculty
member will provide support to our new federal $2.7 million
National Professional Development grant by teaching courses,
developing curriculum, and collaborating in research.
The Webster campus community is invited to attend each candidate's job talk. Each talk will be followed by a discussion with the candidate. Please see the bio statements for each candidate and the schedule for their job talks.
Job Talk Schedule
Candidate 1
Tuesday, Oct. 31, 1-2:30 p.m., East Academic Building, room 137
"Not a Burden, but an Opportunity: Changing Educators' Perspectives on English Learners"
Candidate 2
Wednesday, Nov. 1, 12:30-2 p.m., East Academic Building, room 137
"Diffusing Education Technology: A Model for Language Teacher Professional Development in Computer-Assisted Language Learning"
Candidate 3
Friday, Nov. 3, 1-2:30 p.m., Webster Hall, room 135 (Webster Groves Room)
"Fostering Cross-Cultural Understanding of Students in a Globalized World"
Candidate Bios
Candidate 1 (Curriculum & Instruction, Kansas State University) was most recently an Associate Professor and Chair of TESOL and Bilingual Education Programs at the Graduate School of Education at Touro College in New York where she worked for eight years. Prior to that, she was an Assistant Professor and Title III Grant Manager at Kansas State University after she completed her doctorate there. Before coming to the United States she taught at the JungChul Language Institute in Seoul, Korea. She has taught a wide range of TESL courses and has a decade of conference presentations and scholarship focused on TESL in the K-12 context, including Chinese American elementary students' transnational experiences, content instruction for ELs, Sheltered Instruction Observation Protocol (SIOP), and equity in teacher preparation.
Candidate 2 (Language, Literacy, & Technology, Washington State University) is currently a postdoctoral fellow at Washington State University where she is working on grantfunded projects for elementary and secondary pre-service teachers. She is also serving as an Assistant Teacher in the Pullman Public School District. She has also taught courses in ESOL and educational technology at the University of Illinois, Springfield and the University of Idaho. Before coming to the United States a decade ago she was an Assistant Professor at Benghazi University in Libya. Her dissertation was on in-service ELL teachers and technology adoption and many of her referred publications and conference presentations focus on
technology integration and cross-cultural considerations in language learning.
Candidate 3 (Curriculum & Instruction – TESOL, Northern Arizona University) is currently an Assistant Professor at Bronx Community College in New York teaching courses on Reading and English Language Arts/Literacy for the early childhood and elementary years. He has also taught TESOL courses at Touro College & University, the University of San Francisco, and Northern Arizona University. For nearly a decade he was an instructor for the National Center for Educational Development in the Ministry of Education of Nepal, in addition to teaching English in K-12 settings. He has several dozen publications
and numerous presentations on topics such as globalization and education, children's educational
rights, social justice and equity, and education for indigenous children.