Webster's TESL Program Hosts First Grant Saturday Seminar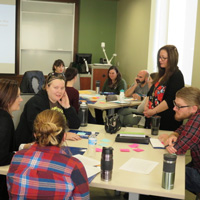 Classes for the first two cohorts in Webster University's five-year $2.7 million National Professional Development (NPD) Grant, "Increasing Teacher Capacity through Communities of Practice to Serve English Learners," are already underway.
The School of Education's Teaching English as a Second Language program has recruited two initial cohorts of high school teachers from Parkway School District, Ritenour School District, and St. Louis Public Schools. These teachers are meeting weekly for classes with Yin Lam Lee-Johnson, associate professor and co-project director, and Diana Pascoe, adjunct instructor.
Grant funds provided through by the Department of Education through the Office of English Language Acquisition have also allowed the School of Education to acquire new technology for classrooms, including new Smart Boards. Grant classes will also have access to other technology including iPad carts, Apple TV devices, and document cameras.
Saturday Seminars
In addition to TESL coursework, cohort members are required to participate in a series of eight Saturday Seminars. Each seminar covers different yet interrelated themes and modules with a focus on reflective teaching practice and family, parent, and community engagement to support English Learners. The first Saturday Seminar was held on Dec. 2, with more than 30 participants from the three participating school districts. This seminar introduced Webster TESL Program's new framework for promoting family, parent, and community engagement called the Teacher-Student Success Network (TSSN). In this first seminar teachers were encouraged to reflect on different roles and participate in different professional development activities to promote their self-reflection from the perspective of current teachers and former students.
The seminar and framework have been developed by Webster TESL faculty DJ Kaiser, Lee-Johnson, and incoming visiting assistant professor Abir El Shaban in collaboration with NPD grant coordinator, Shane Kennedy, and representatives from two community partners, the St. Louis Mosaic Project and the International Institute of St. Louis.
Kaiser, the grant project director, led this first seminar with many activities facilitated by seven different mentor teachers, each of whom has made a two-year commitment to assist cohort members throughout their grant experience. Suzanne Sierra, representing the St. Louis Mosaic Project, provided an introduction to grant participants on the Mosaic Project and other area resources for foreign-born residents, immigrants, and refugees. Thomas Cornell, incoming interim dean for the School of Education, also welcomed the grant participants to Webster and this grant project.
Over the five-year grant period, a total of eight cohorts of K-12 teachers from Parkway School District, Ritenour School District, and St. Louis Public Schools will work through seven TESL courses, the series of eight Saturday Seminars, and additional activities promoting Communities of Practice. The goal is to promote collective capacity to meet the academic and social needs of English Learners in these three school districts.