TESL Program Receives National Recognition from TESOL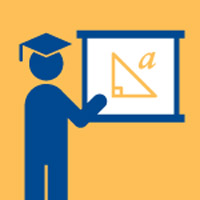 Webster University's Teaching English as a Second Language (TESL) program has received national recognition from Teachers of English to Speakers of Other Languages International (TESOL) through the Specialized Professional Association (SPA) process of the Council for the Accreditation of Educator Preparation (CAEP). Webster's TESL program is the first and only program in TESOL to receive national recognition in the state of Missouri.
The TESL program first received national recognition in 2012 and after an initial round of revisions based on feedback from reviewers, Webster's SPA report for TESL was chosen as an exemplar for other programs to use when building their assessment system and writing reports to seek national recognition.
"The entire process has been rigorous but extremely informative; our assessments and rubrics have been through multiple rounds of external evaluation and we now have a system that allows us to monitor hundreds of TESL students and identify the strengths of our program and areas where we can be even stronger," said DJ Kaiser, associate dean for the School of Education and director of Teaching English as a Second Language. "Since 2015 enrollments in the TESL program have increased by more than 300%, with currently more than 250 students enrolled in Webster's TESL program."
The TESL program has had two five-year National Professional Development (NPD) grants from the Office of English Language Acquisition in the U.S. Department of Education. The first $1.9 million grant served teachers from Webster's Kansas City location (2012-2017) and currently a $2.7 million grant (2017-2022) is providing coursework leading to Missouri English Language Learner certification for more than 120 St. Louis-area K–12 public school teachers.
Webster's TESL program also became the first U.S.-based academic program to be offered in the Republic of Uzbekistan in 2018. The TESL program is now offered at three different locations in Uzbekistan, including at Webster University's newest and largest international campus location in Tashken. TESL candidates also enroll in Webster's online program from all over the world.
"We are proud to see the TESL program receive national recognition again and join the MA in Reading program, which just received national recognition in 2019," said Thomas Cornell, interim dean for the School of Education. "Webster's Reading program was the first program in the School of Education to receive national recognition in 2008."
"Seeing programs at Webster University receive national recognitions like this is evidence of our commitment and mission to provide high-quality learning experiences that transform students for global citizenship and individual excellence," said Julian Schuster, president of Webster University.
Webster University is accredited by the Higher Learning Commission and several programs have their own specialized accreditations.
Teaching English as a Second Language
Promoting effective learning and communication strategies, students earning a Master of Arts in Teaching English as a Second Language (TESL) help non-native English speakers develop their language skills.
Webster also offers a combined undergraduate/graduate degree program leading to teacher certification in elementary education at the end of the BA program and upon completion of the MA in TESL, the candidate is eligible for certification in ESOL.