Webster's Testing Center: Resources, hours and appointments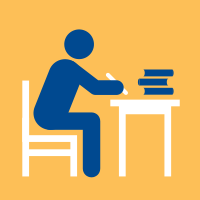 Webster University's Testing Center, part of the Academic Resource Center in Loretto Hall, room 40, provides a distraction-reduced environment for students to test outside the classroom.
This service is free to students taking Webster course exams or Webster-based placement tests. For non-Webster exams (such as CLEP, DSST, or correspondence courses for another university) there is a charge of $25 for a proctor fee.
The proctoring services do not cover in-class exams or the administration of bulk exams (three or more students in the same class) in the Testing Center.
For testing questions not covered here or for more information, please call the Testing Center at (314) 246-8225.
Testing Center hours
The hours of operation during Webster's standard semesters are 9 a.m.-7 p.m. Monday through Thursday, and 9 a.m.-4:30 p.m. on Friday.
Throughout the summer the Testing Center closes at 4:30 p.m. on Tuesday, Thursday, and Friday, and 7 p.m. on Monday and Wednesday.
Student responsibilities
Utilizing the test center requires specific action on the student's part. These are as follows:
Contact the instructor for approval to test outside class or notify the instructor of the right to test in a distraction-reduced environment as part of any ADA accommodations.
Make an appointment with the Testing Center at least 24 hours in advance (preferably more). Students should call (314) 246-8225, email arc@webster.edu, or come to the Testing Center in person to make an appointment.
Notify the instructor of the date and time by which the test needs to arrive at the Testing Center. (The Testing Center will also notify the instructor through their respective department once the appointment has been if the test isn't already in their possession).
Arrive on time for the testing appointment with some form of photo ID (required, no exceptions will be made) and any books/notes required for the test.
Paper, writing implements, and even calculators will be supplied by the Testing Center if the instructor has specified they are to be used on the test.
Cell phones, smart watches, and other electronic devices are not allowed in the testing rooms.
If you are documented under the ADA with the Academic Resource Center, your accommodations will be honored during your testing. Please make sure to notify the Testing Center staff of your accommodations when making an appointment.
Academic integrity is an integral part of the Testing Center functionality. To help ensure these standards, the Testing Center does not accept students' homework assignments, late work, or take-home exams/work and does not collect work to be distributed back to students. Additionally, students may not personally bring their exams to the Testing Center. These policies protect the academic integrity of the Testing Center.