Alumus Spotlight: Nishant Upadhyay Reflects on His Learning Experience at Webster Thailand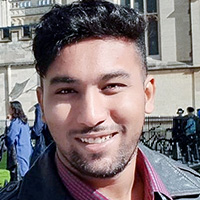 Originally from India, Nishant Upadhyay studied for his BA in International Relations at Webster Thailand's Cha-Am / Hua Hin campus from 2014 to 2016. Since completing his undergraduate degree, Upadhyay has gone on to continue his studies at the University of Oxford where he is currently pursuing an MSc in Modern South Asian Studies.
After considering various institutions to attend across Southeast Asia, Upadhyay felt the opportunity to study ASEAN within the framework of global politics was best addressed in Thailand.
While reflecting upon his two years at Webster Thailand, Upadhyay remembers the impact his professors had on his learning experience.

"The professors of International Relations department were highly qualified and accommodating; they are very helpful and approachable, not only as professors but also as mentors, which makes the Webster IR experience very unique," said Upadhyay.
Building upon his theoretical knowledge garnered in the classroom, Upadhyay also embarked on an overseas internship as part of his studies. During 2014 he travelled to Mumbai where he interned with the Slum Rehabilitation Project, an experience that he found both humbling and inspiring. By having the opportunity to "learn and apply knowledge practically," he was provided with perspectives that would have otherwise been unattainable at other universities.
Overall, Upadhyay believes that his undergraduate studies were an incredible learning curve both academically and personally. With the support of his professors, Upadhyay was able to foster his expertise in a wide range of fields including philosophy, psychology, linguistics, sociology and anthropology. Aside from study, he was also able to increase his Thai language skills, understanding of Thai lifestyle, and culture.