Thailand Cybersecurity Student at Black Hat Europe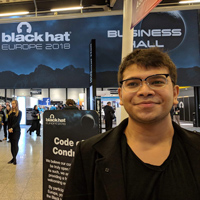 Webster University student Min Khant Zaw, who attends the Thailand campus, was selected to attend the prestigious Black Hat Europe cybersecurity conference, a gathering of security professionals from government and academic institutions along with professionals from Fortune 500 companies.
He reflected on the conference and how it connected to his academic experience at Webster.
"At Webster, I was being supported by the professors, fellow students and staff in the pursuit of things I am interested in and passionate about," he wrote. "It's wonderful to see the skills I had acquired at Webster in the academic career paying off in the real world industry."
Read more of his reflections in this Webster University Thailand post.