In the News: Thailand dance feature; charging stations in Digital Edge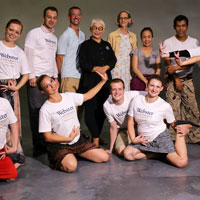 Recent media coverage of Webster University community members includes:
Thailand's "The Nation" featured the group of Webster dance students from the U.S. who recently traveled to Thailand to spend two months studying Thai classical dance with Patravadi Mejudhon, Thailand's national artist in performing arts, and Beckah Reed, professor of dance and artistic director in Webster's Leigh Gerdine College of Fine Arts.
One of the students, Shannon Haubrich, was there thanks in part to a Benjamin A. Gilman International Scholarship.
The Nation's story spoke with several students about the experience. "I've studied dance since the age of three and feel that Thai dance allows me to see another side of the world," said student Abby Contreras. "When Webster University offered the Thai classical dance class here, I leapt at the chance. It was hard, very hard, and in some ways similar to ballet.
Read the full feature with additional photos at The Nation. Also see more photos in the Webster Thailand Facebook post.
Webster Charging Stations in Center for Digital Education
Greg Gunderson, vice president and chief financial officer, is quoted in a Center for Digital Education article about the trend of wireless charging stations appearing on college campuses.
The article notes that in addition to being a sustainability tool, one of Webster's stations serves to raise visibility and awareness -- and build community:
"Along with the stationary charging station, Webster University has a portable one that representatives take to regional events and festivals. This station serves as a recruiting and retention tool with its large university logo and place to charge devices.
"A university administrator saw a different charging station at a St. Louis Cardinals baseball team and observed how the 12 people who were charging their devices at it were talking to each other. These people wouldn't normally interact because they didn't know each other, but the charging station brought them together."